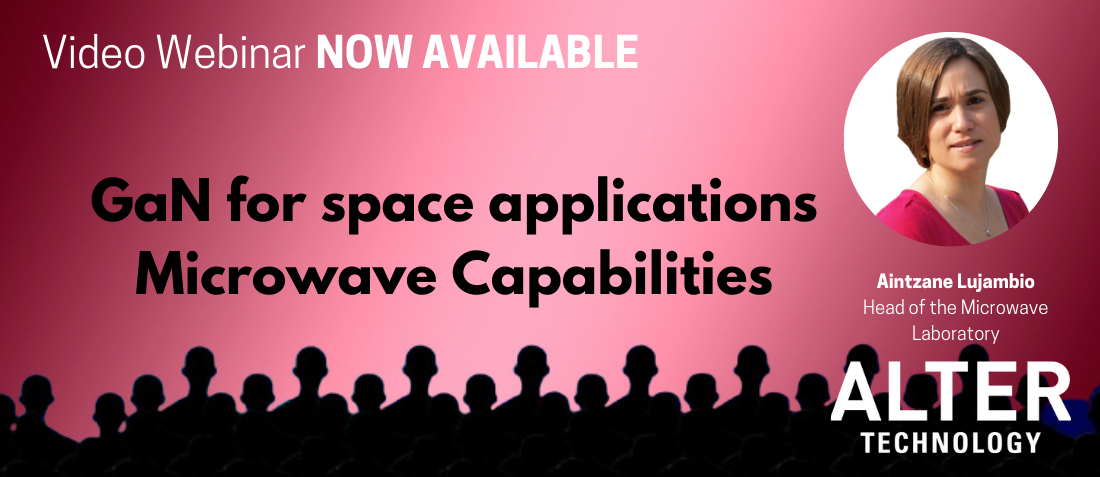 Posted by doEEEt Media Group
On September 14, 2020
0
Microwave Capabilities
This webinar provides an overview of GaN technology in space applications and presents an example of the tests are required for GaN components to be used in an space mission.
The well-known wide-bandgap semiconductors such as GaN and SiC are key enablers of the future electronics. GaN is envisaged to be the future of power conversion and microwave high power amplifiers in space industry.
This webinar presents the major advantages of GaN and the reasons why they are becoming the present of the space industry. With a scarcer space heritage, GaN components may still require very specific tests to guarantee the reliability that any electronic component requires for the harsh environment of a space mission.
A life test on a GaN high power amplifier which has been performed within the Microwave Laboratory at Alter Technology is presented as an example. A very specific endurance test was performed according to detailed customer requirements and reported in real time through Virtual Lab, the reporting web tool that makes our facilities accessible from your own desk.
Aintzane Lujambio Genua obtained the Telecommunication engineering degree and Ph.D. in Communications in the Public University of Navarre in 2006 and 2014 respectively. She participated in several research activities focused on the design and characterization of microwave components as part of the Microwave Components Group of the Public University of Navarre, and afterwards with the Microwave Group of the University of Seville, in the Department of Electronic and Electromagnetism.
She joined Alter Technology Tüv Nord in 2017 as development engineer for microwave components. With an experience of more than 10 years in the microwaves industry, she is working at the EEE parts laboratory department as head of the Microwave Laboratory. She has been involved in testing activities such as screening and qualification of microwave components for different space missions such as ESA's JUICE mission.
She also represents Alter Technology Tüv Nord within the Microwave and RF Passive working groups of the Components Technology Board (CTB), the board responsible for the formulation of strategic programs and work plans for technology research and development in the area of European EEE space components.

Latest posts by doEEEt Media Group
(see all)