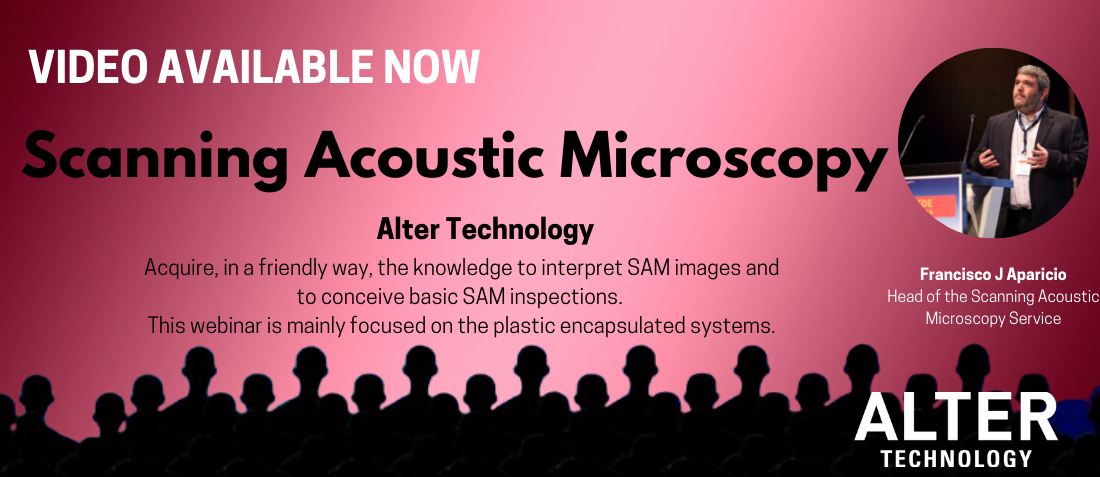 Posted by doEEEt Media Group
On June 17, 2020
2
Non-destructive inspection of EEE packages: Fundamentals and Applications
This webinar provides a brief overview of Scanning Acoustic Microscopy and the inspection of EEE parts. Thus, you will acquire, in a friendly way, the knowledge to interpret SAM images and to conceive basic SAM inspections. The webinar is mainly focused on the plastic encapsulated systems. In addition, we will also show other interesting application examples.
The webinar addresses the following questions:
Which type of defects and anomalies can be detected by this non-destructive technique?
Scanning modes. (C-SAM, T-SAM, A-SAM, B-SAM, Depth analysis …).

What are they used for?
Which type of information can we get for each type of inspection?

How to understand C-SAM images and results?

What do red/yellow areas mean?

Peak amplitude and phase inversion analysis.

How to recognize delamination and voids?.

Limit of the technique. Can we image sub-millimetric chip-scale packages? (SOD 323, SOD 923, …)
Beyond plastic packages. Is the technique used for the inspection of other systems?

Capacitors
Hermetic packages
Flip-chips
PCBs
Chips on boards
Assembled structures
Francisco J. Aparicio is the Head of the Scanning Acoustic Microscopy Service in Alter Technology TÜV NORD.
He has developed an extensive research career at the Spanish Research Council, the University of Mons (Belgium) and the University of Trento (Italy).
With more than 30 scientific papers in indexed research journal, about 70 contributions in international conferences and one patent, Mr Aparicio has been the principal investigator of 4 international and national research projects, as well as a team member in more than 10 differents research.

Latest posts by doEEEt Media Group
(see all)