Posted by Raquel Cano Cordero
On February 10, 2022
0
Importance of test combination X-Ray Tomography, Scanning Acoustic Microscopy (SAM), and Cross Section techniques for electronic components inspections
It is uncommon to run routinely multiple diagnostic tests during electronic components testing. However, when the origin of the anomalies is uncertain, a variety of complementary testing increases the accuracy of the diagnosis and provides greater confidence in identifying the problem.
When performing failure analysis, the first objective is to determine the most convenient test flow to define the root cause of the problem, depending on the type and mode of failure, device, packaging, etc. There are three main tests for anomalies detection and study when it comes to electronic components: X-Ray Tomography, Scanning Acoustic Microscopy, and Cross Section.
GET IN TOUCH TODAY!
Do you have questions? Contact us!
How does X-ray Tomography or X-Ray Inspection work?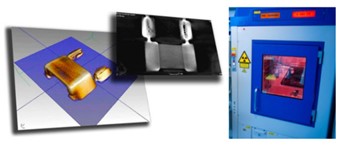 X-Ray Tomography allows us to know the internal structure of the electronic components with great precision, and it is an essential tool when carrying out a non-destructive analysis. The purpose of a Radiographic X-Ray Inspection or 3D Tomography is to detect defects that are not otherwise visible: improper positioning of parts, broken elements, inhomogeneities in materials, foreign objects…
One of its drawbacks is its inability to detect the presence of air-gap defects within plastic encapsulated devices. Therefore, certain flaws would remain unnoticeable.
What is the purpose of Scanning Acoustic Microscope (SAM)?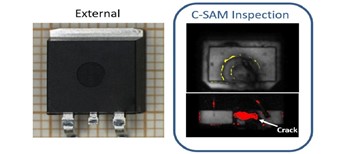 Scanning Acoustic Microscopy (SAM) is a very reliable non-destructive technique for detecting air-gap anomalies of electronic components, allowing the identification of defects such as delaminations, voids, and cracks within the internal structure. Since these anomalies may lead to other defects, this technique is crucial in preventing more serious failures. However, once a defect is detected, it is not easy to know what is underneath it. This is the case of voids and cracks, that when being close to a thread, is difficult to be sure whether they are intersecting it.
The working principle of SAM is based on the reflection that acoustic waves experience at the interface between different media and density irregularities.
What is a cross section?
Cross section preparation is a very powerful way of examining the internal disposition of soldered connections and analyzing potential failure mechanisms.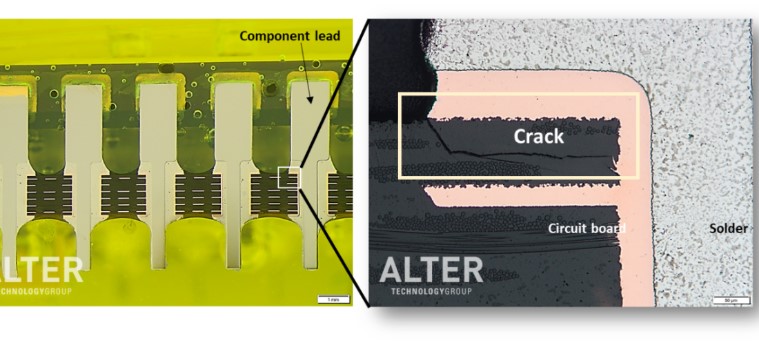 Performing Cross Section makes it possible to mechanically expose a plane of interest in an electronic component by sawing, grinding, polishing, and staining the specimen. This technique is most useful when the location of the inspected part is known, providing high-resolution imaging helpful in evaluating various materials for surface fractures, flaws, contaminants, the morphology of the intermetallic compound, etc.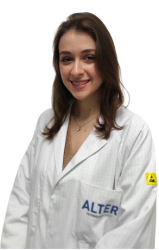 Latest posts by Raquel Cano Cordero
(see all)