Posted by Eladio Montoya Redondo
On February 7, 2022
0
Magnetometric sensors for attitude control and payloads are necessary space instruments to be tested and calibrated in externally generated static magnetic fields (SMF), i.e., magnetic test benches that compensate the Earth's magnetic field develop a magnetic field in an arbitrary direction and intensity.
These static magnetic field tests are very extended at the component level (check all in doEEEt.com⇐). It is easy and inexpensive to generate a magnetic field for an electronic component (because of the reduced size). However, if the EUT is bigger (instrument, equipment, rack), generating a uniform magnetic field is not easy, and these facilities are scarce.
When the volume of the EUT increases, the current needed to generate the same magnetic field increase exponentially, and therefore all problems related to consumption, cooling, the attraction between coils, etc.
To cover this need from our clients, Alter Technology has developed a Static Magnetic Field test bench for space flight equipment, CubeSats, and ground support equipment based on a pair of Helmholtz coils. The Helmholtz coils configuration ensures a good homogeneity of the magnetic field along the coils' axis and radially.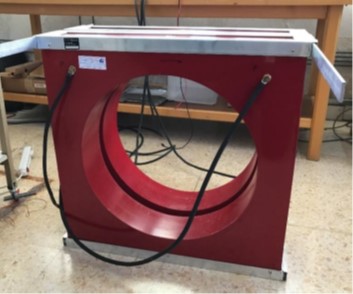 The internal diameter of the coils is 600 mm, and the value of the magnetic fields is variable in intensity by varying the current up to 60mT. The application of transient magnetic fields is also possible with an internal coil concentric to the previous one. This induced a variable field in several mT/s on top of the one induced by the static coils.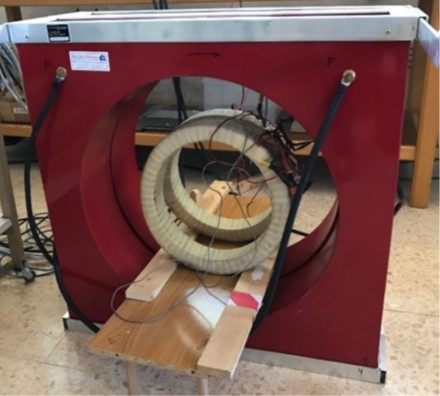 A typical SMF test sets the value of the magnetic field at a certain level and performs a functional check of the EUT (typically seconds to minutes). If the functional check is successful, the value of the magnetic field rises to the next step. This procedure is repeated until failure or until a specific limit is reached.  This test must be repeated in all three axes or by rotating the EUT (element under test).
For big EUTs, if one adopts the same testing strategy, Helmholtz coils with diameters more significant than the typical size of the EUT should be used. However, this may very fast result in huge coils that require enormous currents to generate even moderate magnetic fields.
One has to cool down the resistive heat release, and safety problems appear. A simple, alternative approach that we have adopted is to "scan" the EUT by placing the coils at both sides of it. In the picture, we can see an example of Ground Support Equipment being scanned with our coils.  The coils are hanged from a crane and lifted after every exposure, and the EUT moves horizontally so that the magnetic field illuminates every point inside the EUT.
GET IN TOUCH TODAY!
Do you have questions? Contact us!
Latest posts by Eladio Montoya Redondo
(see all)