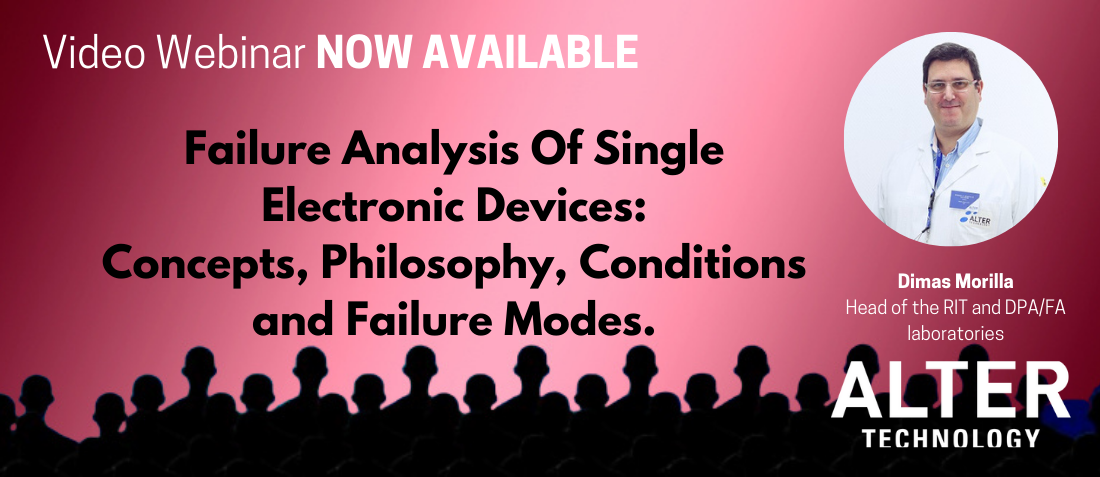 Posted by doEEEt Media Group
On August 31, 2020
0
Concepts, Philosophy, Conditions and Failure Modes.
The webinar provides a brief overview of some basic elements that influence the definition, development and conclusions of a Failure Analysis. You will acquire, for example, and in a friendly way, the knowledge to distinguish the different failure modes through real images of each of them.
We will present some of the technical capacities that a laboratory should have in order to carry out the different tests that are part of a test sequence defined for a FA, as well as some real examples carried out by Alter Technology during its more than 30 years developing its activity in the aerospace sector.
The webinar addresses the following issues:
Definitions: Reliability; Failure Rate; Failure Mechanism vs Failure Mode
What a Failure Analysis is and what previous data we need to define an appropriate sequence of tests so that we can correct or prevent the failure in the future?
The philosophy behind a Failure Analysis. Highlight
Failure Analysis Procedures For Microcircuits (based on MIL-STD-883, Method 5003)
What are the main failure modes? What are the implications and consequences of each of them?
Examples of some real Failure Analysis performed by ALTER. Testing Capabilities.
Since 2004, He has a degree in Physics (Electronics Specialty) from the University of Seville, where I received a special mention to the best academic record of my class. That same year I began my experience as part of the laboratory staff of Alter, so I have developed all my career in the aerospace sector until now, offering quality technical support in some European projects as ATV, Herschel-Planck, Sentinel-3, Bepi-Colombo, Solar Orbiter, Juice, and many others. First of all, as quality and testing inspector; then, from 2011 to 2017 as head of the DPA and FA area, and currently, as Physical Test Specialist. This way, I have high skill and experience in the performance of External Visual Inspection, Seal Test, PIND, Radiographic Inspection, Marking Resistance, Solderability, Terminal Strength, Microsectioning, Internal Visual Inspection, Scanning Electron Microscopy Techniques (including FIB), Material Analysis, Bond Pull, Die Shear, CSAM, Red Plague…
He has received specific training in Quality and Reliability of Electronic Components, Specification Systems, Techniques of Analysis for Electronic Devices, Parts Engineering and Component Failure Analysis and Technologic Evaluation, among other things.  He is a certified inspector for Pre-Cap test performance and Customer Source Inspection of EEE parts; and by ECSS System for Space Product Assurance: "Crimping of High-Reliability Electrical Connections" in accordance with ECSS-Q-ST-70-26, "Manual Soldering of High-Reliability Electrical Connections" in accordance with ECSS-Q-ST-70-08 and "High-Reliability Soldering for Surface-Mount and Mixed-Technology" in accordance with ECSS-Q-ST-70-38.

Latest posts by doEEEt Media Group
(see all)