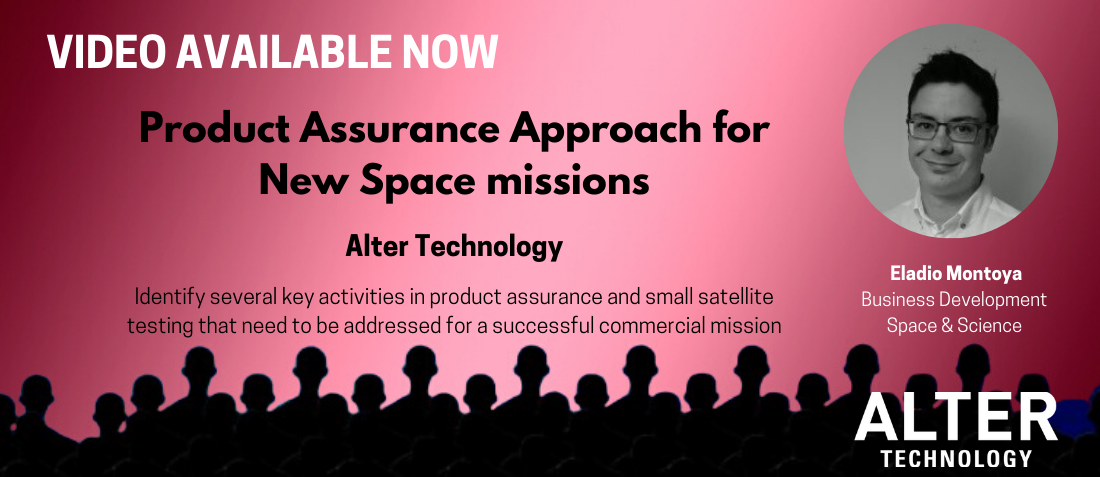 Posted by doEEEt Media Group
On July 1, 2020
0
Current exuberance of the New Space market is characterised among other factors by the use of COTS components and minimized requirements in product assurance and testing policy. This results ultimately in relatively high failure rates of the missions which have been allowed by the relatively low maturity of the New Space sector and the just-for-demonstration purpose of many of the missions.
However, recent and planned strong investments in smallsat constellations require a mastered reliability of the platforms and payloads and a risk management strategy. This means that smallsat builders need to develop a capability in risk management, contrarily to the risk avoidance of traditional space sector.
At Alter Technology, based on our experience of more than 30 years in the Space Sector, we have identified several key activities in product assurance and small satellite testing that need to be addressed for a successful commercial mission.
Read all the questions launched by the attendees, as well as all the answers offered by the speaker.
Q.- Can we consider COTS components to be used in the mobile industry?
A.- Of course, smartphone applications are the main driver of innovations in the COTS components industry (just think of the image sensor development). However, these components are not designed to survive in harsh environments and need adapted packaging, so they can't be used "as is" for New Space.
Q.- Is there any certification programmes from Alter Technology on space-related topics for students and engineers?
A.- Yes, we have MOOC on Radiation effects in Electronics
Q.– You seem to rely on third party certification with first article inspection, but how is this compatible with fast-changing component sources?
A.- The certifying party need to have a strong knowledge of the space sector and know which component suppliers can ensure availability of components, their obsolescence and replacement plans, the implications of these replacements, etc.
Q.- What is SRS?
A.- Shock Response Spectrum, shock tests.
During the webinar, the attendees answered a few questions. Here below, you can see the results.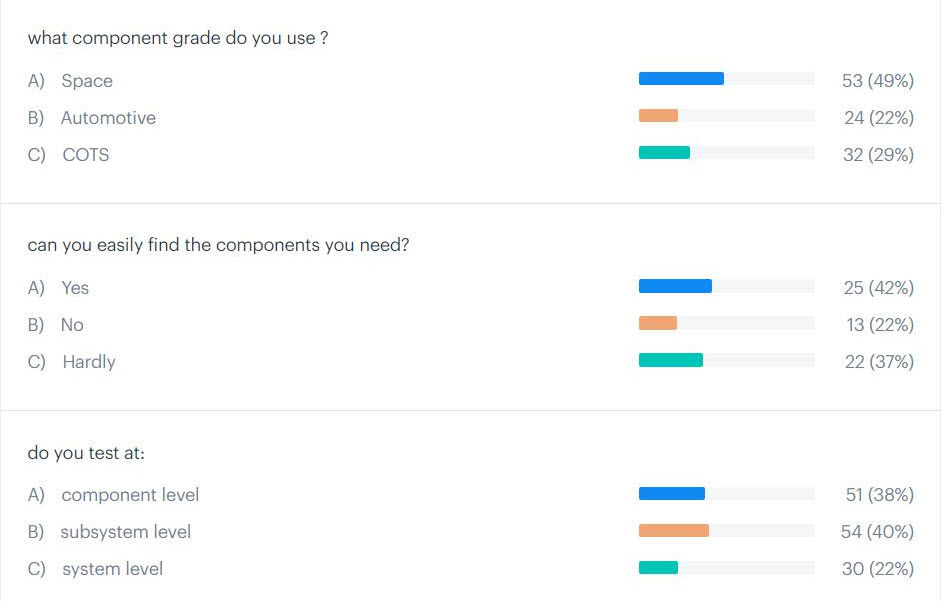 Eladio Montoya, Business Development Space & Science at Alter Technology.
PhD in Physics (Optoelectronics) from the Universidad Autónoma de Madrid.
He has worked as a Research Engineer at Saint-Gobain Recherche in Paris and has been Director of R&D at Ramen.
With extensive experience as Sales Engineer in Panatec, and being Manager of the product line of Thales Alenia Space Spain gave him the experience and knowledge.
After this career, he becomes Business Development Manager (New Space and Great Science) in Alter Technology, where he has been working for some years.

Latest posts by doEEEt Media Group
(see all)