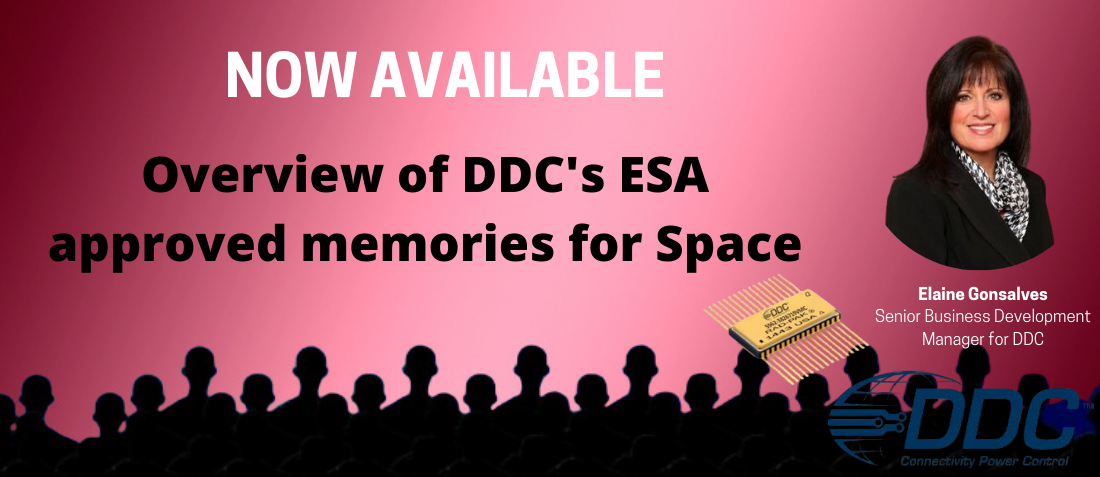 Posted by doEEEt Media Group
On November 4, 2020
0
The focus of this webinar will be on DDC's assured supply of 1Mb EEPROM which is on ESA's EPPL, including a value proposition for use of these parts and quick overview of other DDC memory products.
European Space Agency (ESA) adds DDC's 1Mb (128k x 8) EEPROM QML V Rad Hard memories (SMD #5962 38267 28C010T & 28C011T) to their preferred parts list (EPPL, issue 39)
In this webinar, you can have a brief Value Proposition of DDC´s 1Mb EEPROM:
DDC offers a more Reliable Part with T traceability
All DDC parts are in Ceramic Hermetic package
DDC's devices are Easier to Handle & Assemble which equate to better board design
DDC's devices offer Better Radiation performance, Less complex screening and Higher Quality
Sampling for Flight usage: GPS III, Global Star2, SpaceBus 3000, LeoStar, Chandrayaan 2/ Oceansat 3, Sentinel 3, Galileo and others
DDC is putting a "generic SCD" together for EU customers to have minimal QCI screening included in the unit price
Non ITAR part
Elaine Gonsalves, Senior Business Development Manager for DDC
Elaine is Senior Business Development Manager for DDC supporting the Microelectronics (ME) Space Business Unit, including Rad hard memories, data converters and single-board computers (SBCs) products.
Elaine received her Bachelor's & Master's Science degrees in Electrical Engineering from Worcester Polytechnic Institute in Worcester, Massachusetts in the USA.  She has worked in the electronics industry for over 25 years, and specifically in the Space Industry for over 13 years in a variety of capacities, including as a Field Applications Engineer, Product Manager, Marketing Manager, Technical Sales and Business Development Manager.
She has travelled the world supporting customers and is proud to have a European Passport, from her dual citizenship from Portugal, which is the parent's homeland.

Latest posts by doEEEt Media Group
(see all)