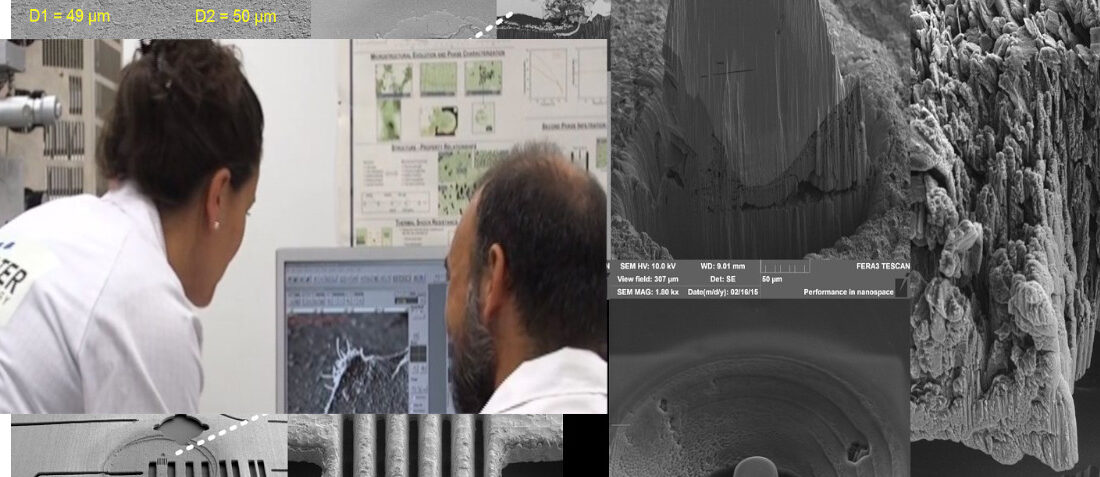 Posted by Francisco Javier Aparicio Rebollo
On March 14, 2019
0
SEM available high magnification tool to analyze the design, construction or handling defects. It can be used to check the interconnect metallization on the integrated circuit: metal step coverage, etc., or for performing an in-depth technology study: reverse engineering, die cross sectioning, failure analysis, etc.
This type of inspection is performed using an electron microscope which produces images of a sample by scanning it with a focused electron beam. The interaction between the electrons and atoms in the sample generates signals that contain information about the sample's surface topography and elemental composition.
The three signals that provide the greatest amount of data are the secondary electrons, backscattered electrons, and X-rays. Secondary electrons are emitted from the top surface atoms, producing a readily interpretable, high-resolution image of the surface topographic features with magnification up to 100,000x and spatial resolution better than 50Å. Backscattered electrons are primary beam electrons reflected from atoms in the solid, the image produced showing the chemical phase distribution in the sample.
The X-ray emission caused by the interaction of the primary beam with atoms in the sample reveals the energy spectra providing a qualitative and quantitative elemental composition as well as showing the elemental distribution in a sample surface (EDS).
This test technique is useful for analyzing the design or construction or for defect handling. It also can be used to check the interconnect metallization on integrated circuits, metal step coverage, etc., or for performing an in-depth technology study: reverse engineering, die cross-sectioning, failure analysis, etc.
Additionally, the SEM equipment can be complemented with such devices as an XRF/EDS system (for qualitative and quantitative elemental analysis) or a FIB setup (for micro-sectioning).
Alter Technology performs FIB using a FEI top-model Dual microscope. The SEM column (Elstar XHR immersion lens FESEM column) has a resolution of 0.8nm at 15kV and 0.9nm at 1kV and is designed to access an extremely high-resolution (XHR) 2D and 3D characterization, nanoprototyping, and higher quality sample preparation.
Precise cross-section analysis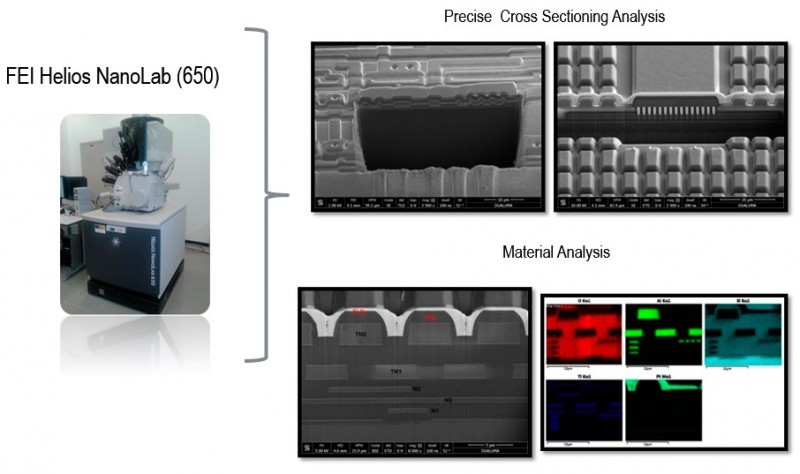 Depending on the parts and the area to be inspected, SEM examinations are performed in accordance with different standards such as MIL-STD-750 method 2077 or MIL-STD-883 method 2018, among others. As an example, method 2018 of MIL-STD-883 provides a means of judging the quality and acceptability of device interconnect metallization on non-planar oxide integrated circuit wafers or dice while performing SEM on glassivated devices.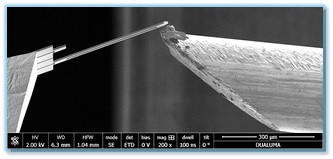 Once you doEEEt you can´t leave it
doEEEt.com The only database of Hi-rel parts for use in Space, compare components from different manufacturers and get recommendations based on your needs.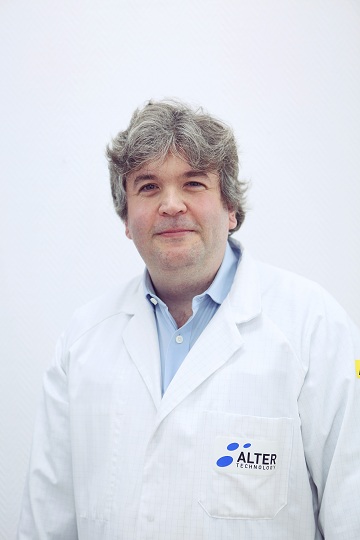 Senior materials and Test Engineer
Francisco Javier has a Degree in Physics and a Ph.D. in Materials Science both from the University of Seville and has conducted different Post-doctoral stays at the University of Mons (Belgium), University of Trento (Italy) and the Spanish National Research Council.
He works as materials and physical test senior engineer within the Destructive and Physical Analysis Department. In Alter Technology laboratories, his main tasks address the characterization of EEE parts by advanced microscopy techniques and the conception of new test procedures.