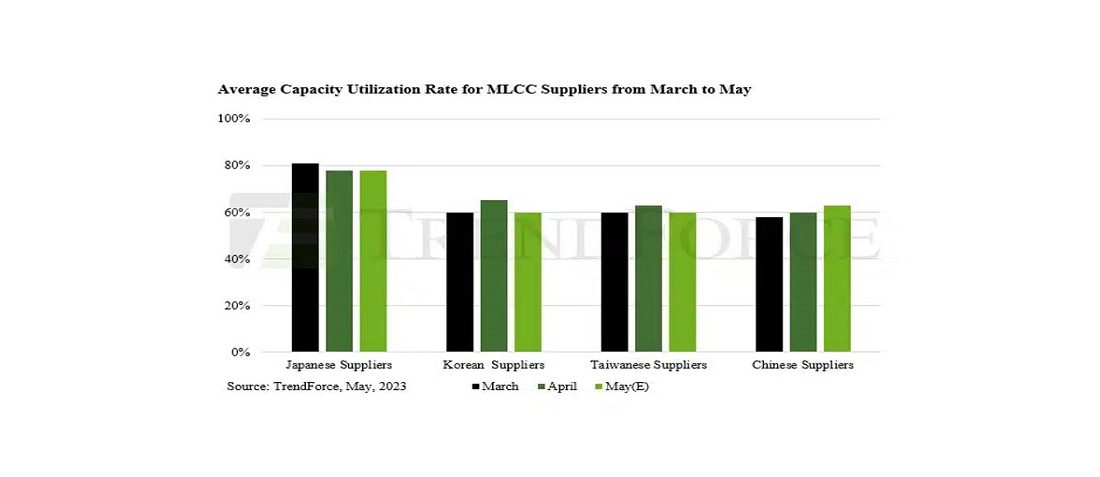 Posted by doEEEt Media Group
On June 22, 2023
0
TrendForce reports that global economic headwinds have significantly impacted the MLCC industry, with shipments from January to April totalling 1.359 trillion units. This represents a 34% decrease compared to the same period in 2021, highlighting the more significant impact of global economic headwinds on the MLCC ceramic capacitor industry compared to the pandemic.
An unstable demand for orders from brands and ODMs since 2Q23, coupled with continuous price pressure, has forced MLCC suppliers to control capacity to maintain a balance among supply, inventory, and pricing.
In May, Japanese suppliers' average capacity utilization rate was 78%, while Chinese, Taiwanese, and South Korean suppliers stood around 60–63%. Reduced production may become a short-term norm as consumer demand remains weak.
In the second quarter, new smartphone releases from Huawei, Honor, and OPPO have failed to effectively boost China's domestic market consumption, leading brands to adopt a more conservative approach to promoting new products.
In the server segment, current estimates project a 2.85% YoY decline in total shipments for the year, with potential further downward adjustments. This will affect material depletion for ODMs, including Inventec, Quanta, and Wistron. Average inventory levels remained high at 4–8 weeks as of the end of April.
In March, ODMs began mass production and shipments of Intel's 13th generation Raptor Lake CPU platform for consumer and business models—coinciding with the three-year replacement cycle since the pandemic. However, Quanta and Compal, the top two ODMs, reported shipments of only 3.3 million and 2.4 million units in April, respectively. Comparatively, during the same period last year, when China was under lockdown and supply chains were disrupted, shipment volumes reached 3.2 million and 2.2 million units, respectively. This underlines the current sluggish demand in the end-user market, and, combined with economic uncertainties, OEMs have adopted a more conservative outlook for new product launches.
TrendForce further states that previously, the market generally believed inventory pressure was the main factor impacting the MLCC industry. However, for smartphones, PCs, and laptops, which account for 30% of MLCC demand, ODMs adjusted their inventory levels as early as the third quarter of last year. By 2Q23, they had gradually returned to normal, with occasional urgent and short orders replenishing stock. Nevertheless, overall demand is still weak due to the sluggish consumer market, resulting in low and unsustainable demand for MLCCs from buyers. In May, the MLCC supplier BB ratio was 0.85, only a slight increase of 0.01 compared to April, indicating meager order growth.
Looking ahead to the third quarter, although brands and ODMs still hope the traditional peak season can stimulate demand recovery, the forecasted growth rate for MLCC order volume remains low, hardly reflecting the usual uptick expected during the peak season. One notable exception is the Japanese firm Murata, which recently bagged an order for components for Apple's iPhone 15, set to debut in 3Q23. The order volume has already nudged past last year's figures, indicating that Apple is confident the upgraded hardware and software of the iPhone 15 will continue to turn heads in the consumer market.

Latest posts by doEEEt Media Group
(see all)