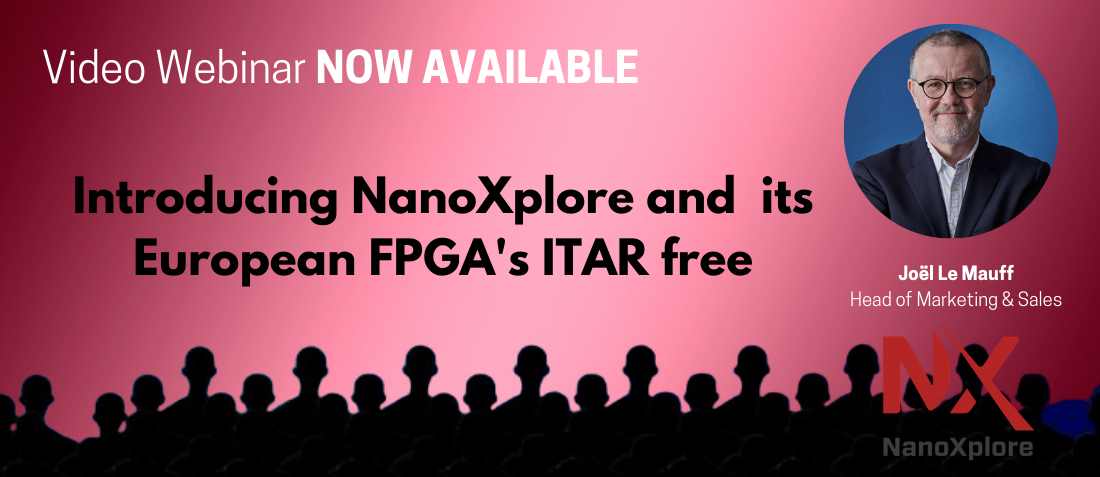 Posted by doEEEt Media Group
On July 14, 2020
0
In this webinar, you will be able to put in perspective the NX product roadmap fully dedicated to Space.
The FPGA market was dominated by US vendors.
Fortunately, European Space Agencies and the European Commission gave keys to NanoXplore to develop Rad-Hardened FPGA devices fitting with the Space market demand.
Take benefit of NX ITAR-free Low-end to High-end FPGA SoC devices.
NXmap3 tool suite is free-of-charge, with fast Technical support access.
Each product is proposed with a dedicated Evaluation Kit.
NX FPGAs are assembled in both Plastic & Ceramic packages in order to become Low-cost and Hi-Rel components.
NX Quality Assurance flows are compliant to US and EU standards.
Joël Le Mauff, Head of Marketing and Sales
He received his Automatism/Electronic Master degree by 1986 from the CNAM (Conservatoire National des Arts et Metiers) of Nantes, France. He worked in Semiconductor for more than 35years, working for IBM Microelectronics, MHS, TEMIC, ATMEL and Xilinx in different functions from Product Engineering to Marketing positions. He joined ALTER TECHNOLOGY in 2009 assuming Business Development and Sales activities. But, he came back to the FPGA market, joining NanoXplore, I mean the brand new European FPGA vendor by end-2016, taking the lead for Marketing & Sales.
Customer-oriented marketing manager with a large background in semiconductor technologies, taking benefits of Engineering as well as Product manager experiences.
Last 28 years have been dedicated to the Aerospace & Defense market in different Marketing & Sales roles, addressing various topics such as Product Marketing, Tactical Marketing, Strategic Marketing, Business Development, Partnerships, Business analysis …
Specializations:
Booking/Billing analysis/management,

P&L analysis, Pricing strategy,

Large knowledge of the International Aerospace & Defense market,

Technical background:

About ASIC, ASSP and PLD product lines,

Quality systems with a specific focus in Aerospace & Defense standards,

DO-254 User Group member (= Avionics certification standard),

Radiations Effects on Components & Systems for both Terrestrial and Space environments,

Import/Export rules.

Latest posts by doEEEt Media Group
(see all)