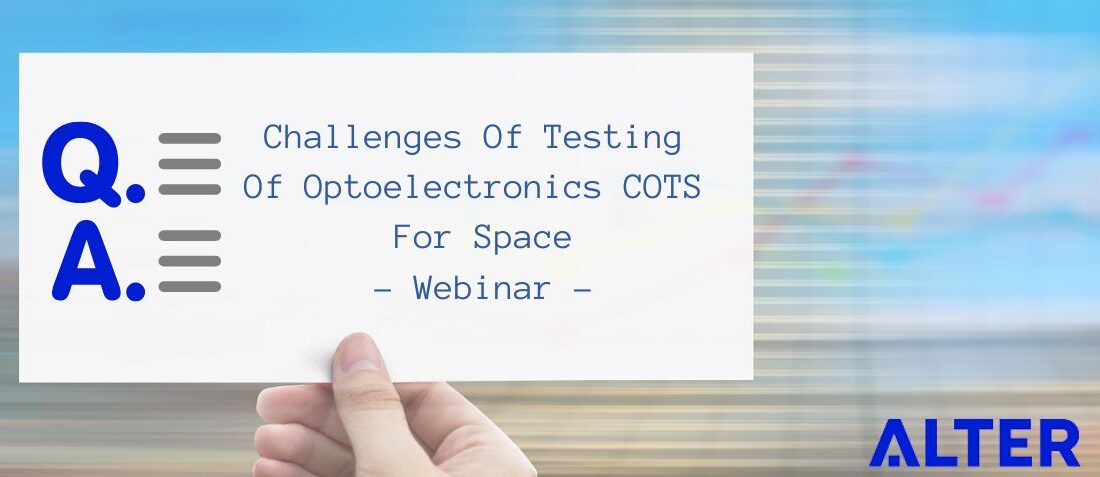 Posted by doEEEt Media Group
On January 10, 2023
0
The webinar was attended by many participants who asked our speaker a few questions. In this post, you will find all the answers.
What is the red cabinet?
The small red box in the picture is a spectrometer. Silicon sensor allows the characterization of LEDs from 200 to 1100nm with this instrument.
How are the diodes driven? LEDs
LEDs are driven using a Keithley precision source meter with 4 wires connected to the devices. Bias values and measurements are controlled by custom LabVIEW software developed by Alter Technology.
When you do an up-screening and qualification campaign, how many samples do you use? And how do you justification that they are equal (the ones that you just do the upscrenning because they will be used in the FM) if the die manufacturing is probably different, date code, etc…
Almost any manufacturer guarantees that the optoelectronic devices come from the same manufacturing batch (definition of the COTS.. it is basically getting a bag and taking them randomly from the devices)…
In general, for optoelectronics parts, do you find positive results on a burn is performed? Also, what Burn in duration? Any failures / % of the device?
The number of samples is around 50pcs following ECSS-Q-ST-60-13C. These kinds of justification are generally accepted by a project consortium rather than Alter as Test House.  Good burning results are obtained most of the time but unfortunately, no percentage of failures can be given in optoelectronics for the moment.
What is the temperature range?
The temperature range in this project is limited from +85degC to low temperatures. Low -110degC operation and down to -140degC in storage conditions.
I would expect that one of the most critical parameters of optical parts to be used in space is sensitivity to radiation.
It is indeed one of the most critical factors. Sensitivity to protons and gamma radiations will be addressed within the project.
One more question, for the laser diodes, do you find it useful to do PIN tests?
I understand you refer to PIND tests. In that case, yes. Rejections of COTS in the PIND tests occur sometimes, so it is recommendable to keep this test even in lightened screenings.
GET IN TOUCH TODAY!
Do you have questions? Contact us!

Latest posts by doEEEt Media Group
(see all)