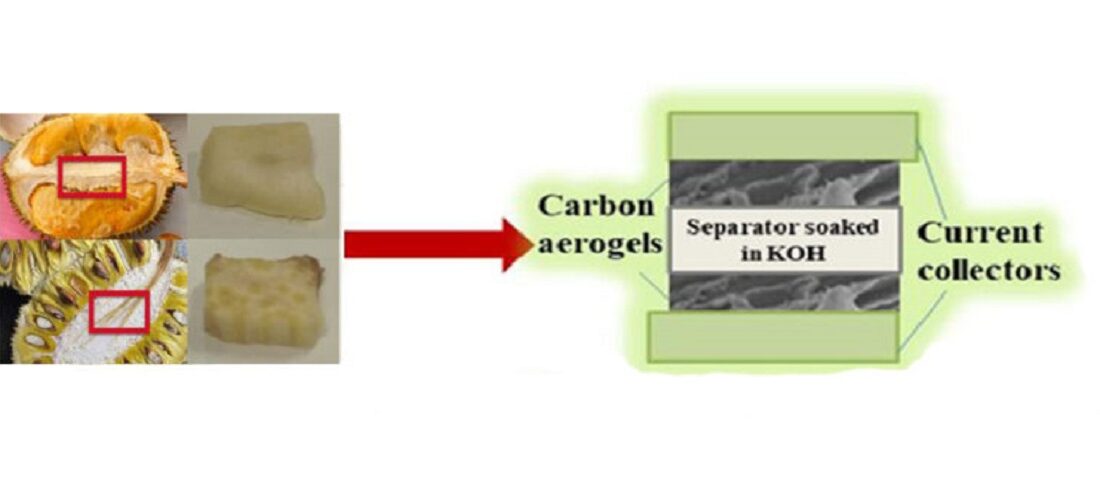 Posted by doEEEt Media Group
On April 24, 2020
0
Aerogel from fruit biowaste produces ultracapacitors with high energy density and stability
Biomass waste from jackfruit and durian were used to produce carbon aerogel electrodes incorporating stable scaffolding of base material and natural nitrogen doping. Higher atomic doping of nitrogen in DCA (durian carbon aerogel) compared to JCA (jackfruit carbon aerogel) indicates preservation of nitrogen-containing functional groups during the synthesis. The specific surface area and proportion of mesopores is greater for DCA than for JCA samples. Electrochemical characterizations show high specific capacitance for both DCA (591 F g−1) and JCA (292 F g−1) at 1 A g−1 current density with two-electrode configuration with excellent cycling stability and charge.
Carbon aerogels were developed using waste durian and jackfruit scraps for the first time via a facile, chemical-free, green synthesis procedure. Both durian (DCA) and jackfruit carbon aerogels (JCA) exhibit high specific surface areas, high proportions of mesopores and significant levels of nitrogen doping.
The synthesized aerogels were characterized by SEM, FTIR, Raman, XRD, XPS and BET. The electrochemical performances were determined by the cyclic voltammetry (CV), galvanotactic charge-discharge (CD) and electrochemical impedance spectroscopic (EIS) measurements in two-electrode configurations. The specific capacitance values at a current density of 1 A g−1 using two-electrode configurations for both DCA and JCA are 591 F g−1 and 292 F g−1, respectively.
The DCA electrode had significantly greater power density (82.9 W h kg−1) compared to that for the JCA (40 W h kg−1) at 1 A g−1 current density. The electrodes also displayed long-term cycling stability and rapid charge-discharge processes. The superior performance of the DCA electrode relative to JCA is ascribed to its higher pyridinic, pyrrolic and graphitic N contents (by 86% total), its high specific surface area (by 21%) and large pore volume (by 56%), which promote enhanced electrical conductivity and pseudo-capacitance with favourable electrolyte penetration. Nevertheless, both electrodes are attractive candidates for the next generation, high performance, yet low-cost supercapacitors for energy storage devices derived from biowastes.

Latest posts by doEEEt Media Group
(see all)