Posted by Manuel Sánchez Ruiz
On November 13, 2019
0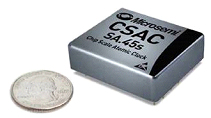 As a way of measuring time, atomic clocks have proven to be more precise than clocks using earth movement as a base for time calculation. Therefore, in 1967, the definition of second was established as 9,192,631,770 cycles of radiation of a cesium-133 atom. Thus, taking as a baseline the frequency of the energy transition of electrons when the atom is at absolute zero, time can be measured. 
The SA.45s is a chip-scale atomic clock manufactured by Microchip. Having two orders of magnitude better accuracy than oven-controlled crystal oscillators (OCXOs), and up to four orders of magnitude better accuracy than temperature-controlled oscillators (TCXOs), the CSAC opens the door to new classes of applications that require radiation tolerance. The development of this part is guided for the desire of Microchip to release a low cost/low manufacturing time CSAC that can fit the needs of New Space market.
In the words of Peter Cash, director of the clock business unit at Microsemi a Microchip company:
With the introduction of the Commercial Space CSAC, we now offer a space-deployable atomic precision clock reference with radiation tolerance in support of the space market's desire to reduce mission costs and design times using COTS devices. As the first atomic reference clock with low SWaP available for space, our new device is well-suited to applications requiring precise clock synchronization, including a variety of existing and emerging LEO applications."
SA.45s CSAC main features:
10 MHz CMOS output, with 1PPS (pulse per second) output and 1PPS input for Synchronization, both in a CMOS 0V to 3.3V format.

The clock can be adjusted (special frequency crystal and some engineering work on the units and test system) to accommodate different frequencies up to 32 MHz.

The output frequency will change by no more than 4.0E–10 as the supply voltage varies over its allowable range (3.2 V to 3.4 V). No frequency jumps have been observed so far.

Operating temperature for this part is -10ºC to +70ºC.

Maximum frequency change of ±5.0E–10 over operating temperature

Short Term Stability (Allan Deviation) < 3.0E–10 at TAU = 1 sec

Typical long-term aging < 9.0E-10 /month

Builds a RS-232 serial interface to control and calibrate the unit, as well as monitor the status, set and read the internal clock.
SA.45s CSAC material and environmental features:
Part finish is tin plate over nickel: The lead material is 52 Alloy with a plating of 200 μinches (minimum) of tin plate (MIL-T-10727) over 100 μinches nickel (QQ-N-290). Soldering by hand is recommended.

The physics package is hermetic, but the PCBA is not hermetically sealed. The PCB is soldered to the pins of the lower housing, and there is a pin in the lower housing that connects through the PCB as well.

Tested to shock, humidity and vibration.

Can undergo vacuum conditions when the unit is hermetically sealed, the operation is at normal atmospheric pressure. The pressure difference is not great enough to affect the physics package hermeticity, so there should be no operational effect, assuming that the baseplate is properly heatsunk.

Due to its size, the SA.45s is somewhat more vulnerable to magnetic fields (conventional Rbs show an effect of ~5E–11/gauss). The entire housing (cover and baseplate) of SA.45s CSAC has two layers of mu-metal shielding to reduce magnetic effects.
SA.45s CSAC radiation features:
Radiation tolerant to 20 krad TID (frequency offset change < 5E–10)

SEL, SEU tested to 64 MeV-cm2/mg
SA.45s CSAC main applications:
Satellite timing and frequency control

Satellite clock reference

Assured Position, Navigation and Timing (PNT)

Atomic clock accuracy

Satellite cross-linking

The low volume < 17cc (1.6 in. × 1.39 in. × 0.45 in.), power consumption (<120 mW), weight (<35 g) and cost of this part makes this part highly attractive for LEO applications. 
SA.45s CSAC regulations:
The SA.45s CSAC has an Export Commodity Control Number (ECCN) of EAR99. This means it is not ITAR-controlled and does not require a special license to ship to most nations. The SA.45s CSAC classification is controlled by the Bureau of Industrial Security (BIS) within the US Department of Commerce.

CSAC is 5/6 compliant (compliance for 5 out of the 6 restricted substances), no compliance for lead (Pb), as it makes use of lead in solder. This product is excluded from the Restrictive Substance Requirements of the RoHS Directive under Category 9 (Industrial Monitoring and Control instruments) as defined by 2011/65/EU Annex 1.

Due to the low content in Cesium, the part is not affected by Hazardous Materials restriction. Certification from IATA stating that the product can be shipped to international destinations (outside of the U.S.) without hazmat restrictions, and similar certification from the U.S. Department of Transportation (DoT) stating the same for shipments inside of the U.S.
If you wish to order it, Part Number for 10 MHz Output Frequency is 090-02984-007. Also there is a specific reference for the CSAC Developer's Kit: 990-00123-000.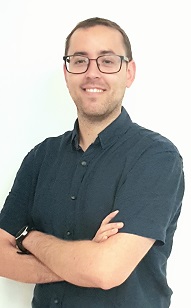 Latest posts by Manuel Sánchez Ruiz
(see all)