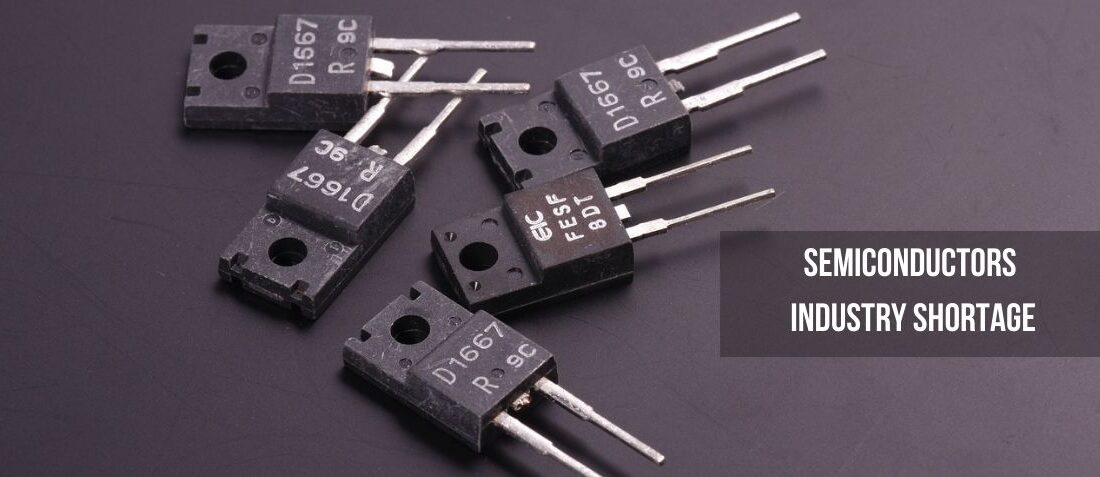 Posted by Eva Díaz
On October 25, 2021
0
Semiconductors are essential elements for any digital product (on the rise) in practically all industrial sectors. Their demand has multiplied as a result of changes in habits during the pandemic. Worldwide shortages, including raw material ones, continue to heavily impact production and manufacturing capacity leading to tight supply, extended lead times, and increased pricing, production stoppages in some manufacturing plants in industries like the automotive one, but not only worldwide level.
We expect the semiconductor shortage to persist as a minimum until 2022 and not back to normal levels until 2023. Shortages should lift beyond this as production capacity increases from new production lines and alternatives being worked out. The current shortage is bad news for everyone. Thankfully, it won't last forever.
Even though semiconductors shortages have been reported by different sources, with potential impacts on lead times, precise indications on specific parts and/or actual delays are not stated. Also, the evolution of this issue over the following months is unclear.
For any upcoming satellite mission, the increased lead times for semiconductors and key EEE components are very critical.
The implementation of ad hoc risk management measures is the only way forward to avoid undesirable costs and schedule impacts in space missions.
Production of space parts was stable in terms of lead time, but this is changing in the last months due to several factors:
Manufacturers are dedicating most of their production efforts to those lines which provide higher margins. This is also linked to the exponential increase of the EEE parts required for consumer electronics and automotive.
Availability of raw materials, with special emphasis on certain ceramic packages
Potential restrictions due to energetic constraints, leading to temporary production shutdowns in some Asian manufacturers.
Growth of the New Space market and constellations, which require important dedicated resources in terms of EEE procurement.
All in all, the rise of lead times is not exclusively affecting complex-active devices and it is usual to find standard automotive passive parts in allocation or with lead times beyond 52 weeks.
As an example, the latest report from ECIA (Electronic Components Industry Association) from August 2021 shows a clear picture of this lead time increase with multiplying factors of x2 and x3 in active and passive devices: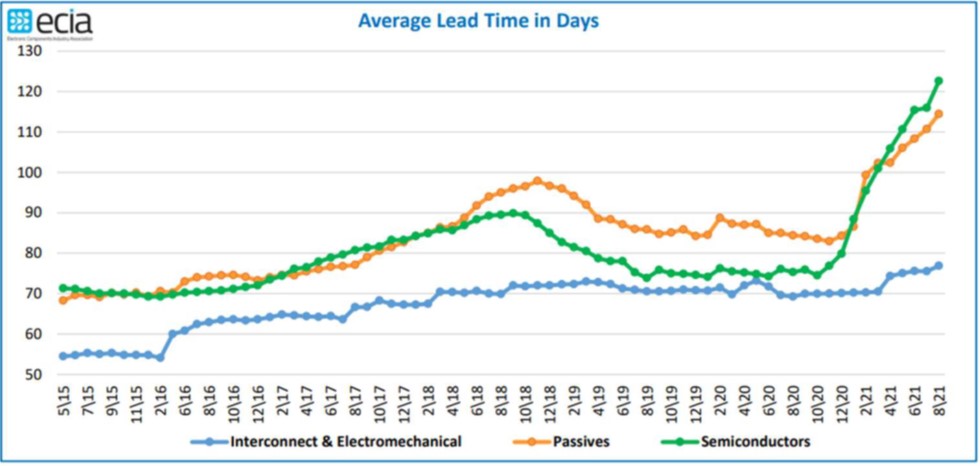 Going deeper into family types, an acute tendency for lead time increase is the conclusion for a general market trend. Even though this is fully applicable to commercial devices, the increased lead times for EEE space parts are becoming more and more affected by this trend.
Continuous monitoring and further visibility of the current lead times and potential prediction of these critical functions commonly used in space missions is a must. This visibility is essential for the successful development of space missions. The definition and identification of early mitigation actions to jeopardize risks from appearing is a compulsory activity. Any model, EM, EQM, FM, FS,… is a candidate to suffer from this trend.
The enhanced use of COTS makes it such that lead times for passive parts from the automotive market reporting erratic lead times over 52 weeks are now affecting new space applications or EM models that make wide use of these components. Qualified products are being made available with standard lead times of 40 weeks, and some specific microelectronics show manufacturing lead times between 68-97 weeks!.
GET IN TOUCH TODAY!
Do you have questions? Contact us!
This post has been following our prior post earlier this year