Posted by Mikko Nikulainen
On November 18, 2019
0
Technology and Market Trends of Space 4.0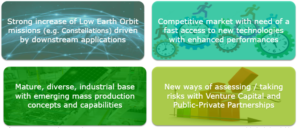 ESA Technology Strategy (COTS)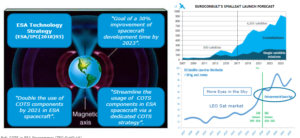 What are the Arguments  for COTS in a Space Project?
Better Performance
Adoption of new technologies

Access to state of the art capabilities compared to more conservative Space Qualified components
Better Availability
Multiple suppliers

Lack of Hi-Rel components

Short lead times

No/less export restriction constraints
Lower Cost
Lower recurrent unit costs
ESA COTS  SC & WG 's  (Established  since Feb 2018)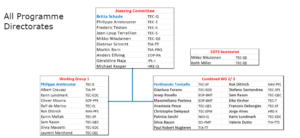 SWOT-analysis for ESA position with respect to COTS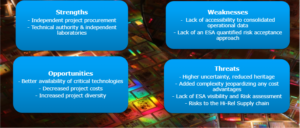 Normative Landscape Evolution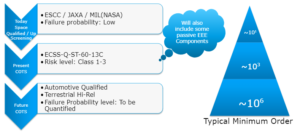 ESA COTS Recommended Actions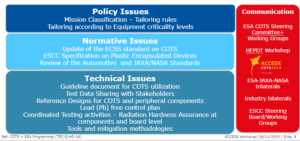 Mission Classification  & Tailoring Rules

A mission classification with associated tailoring rules shall be defined according to ESA's stakeholders, acceptability of failure to be traded against mission implementation costs.  
Example : NASA Mission Classification (Ref 8705.4)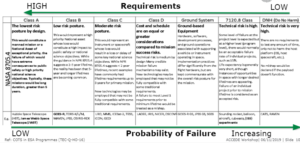 Agreed Way Forward  & Next Steps  
1) Establishing a Mission Classification scheme (action driven by ESA Directors and Program Managers).  
2) Introducing a Tailoring of Mission Classes down to Equipment Categorisation level according to their criticality (action to be driven by Project, ESA Technology Directorate, Sub-systems responsible and PA Managers). 
3) Establishing a Coordinated COTS Components and Reference Design Evaluation Plan (action to be driven by ESA Technology Directorate, project representatives and Industry Suppliers). 
4) Promoting Information sharing with internal and external Stakeholders (action to be implemented by All for the benefit of All).
Annexes, backup Slides  
Annex A : COTS – Overall Approach w.r.t equipment criticality (1/2)
Mouser  Electronics (NL) , a commercial supplier of  terrestrial pressure, temperature and load sensors,  recently received a customer return of a sensor which was not functioning correctly.
Failure analysis concluded that its one-time programmable memory had been corrupted, due to it being irradiated.
Further investigation revealed that the end customer was Space X and the part was  being used in their Starlink constellation satellites.
You can be a manufacturer for space industry without knowing it, 

European  COTS parts are in the big US constellations.
Annex A : COTS – Overall Approach w.r.t equipment criticality (2/2)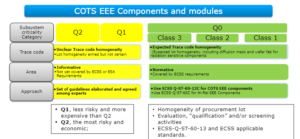 Annex B: COTS – Goal : Building up knowledge about COTS (1/2)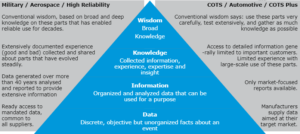 Annex B: COTS – How to support ESA Programs and Industry (2/2)
In practice, what is proposed is to setup a web-based platform allowing: 
Companies interested in the usage of COTS Components to express their needs by describing the application profile and the type of components triggering their interest.

ESA will build-up statistics (histograms) based on these request and make them visible to the stake-holders.

If a specific type of components appears to be "popular", gathering many requests and hence witnessing a high level of interest, ESA could use this information to harmonise activities related to the characterisation of these components.

Outputs of 3 could be used as well to decide if a reference design should be made available to support the usage of the part in the conditions they have been tested.
Normative Landscape Evolution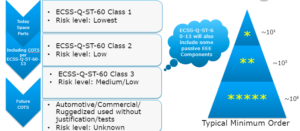 Automotive Electronic Council Standards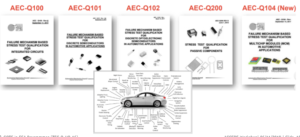 Normative Landscapes 
In ESA, the ECSS-Q-ST-60-13C "Commercial electrical, electronic and electromechanical (EEE) components" is the normative reference for the use of COTS parts. 
This standard is applicable to commercial encapsulated active monolithic parts (integrated circuits and discrete) but is currently NOT applicable for the use of COTS passive parts.
Based upon the discussions at the PSWG/SCSB and with Industry, this document at the next revision will be updated and extended to include passive parts.
General consensus from the WGs is any new standard/guideline should go further by broadening the definition of COTS from EEE parts to also include EEE assemblies/modules.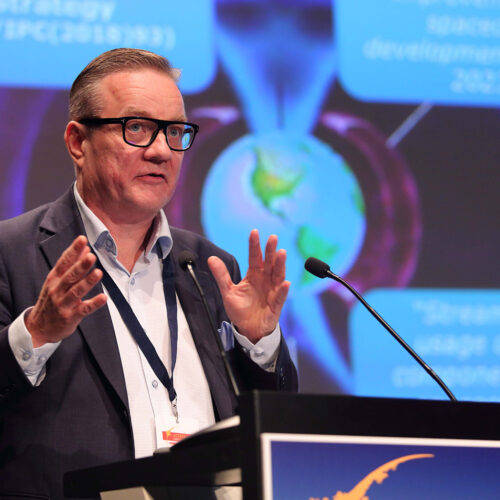 Latest posts by Mikko Nikulainen
(see all)