Posted by Simon Albert
On November 18, 2019
0
Agenda
Why to use automotive parts in space?

Space Market Evolution

Meeting the requirements

AEC-Q Principles

Production Part Approval Process (PPAP)

Comparing Hi-Rel and Automotive Standards

Selection of Automotive Components for Space

Procurement of Automotive Components for Space

Use of Automotive Components for Space

Main Takeaways
Why to use automotive parts in space? – Space Market Evolution
the use of automotive parts in space programs seems to be beneficial due to the change of needs in the space market

-> Changing needs call for new approaches / methodologies / concepts
Why to use automotive parts in space? – Meeting the requirements
to what degree do different kind of parts meet the requirements for space programs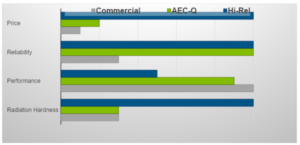 automotive components are the best compromise between price & reliability (excluding radiation) for space
-> AEC-Q components provide a good compromise between price & reliability for space programs (excluding radiation)
AEC-Q Principles
AEC-Q documents specify how

to qualify components and to requalify them

in case of material or process changes.
There is

no AEC Qualifying Body

, auditing the manufacturers or certifying it has met the qualification requirements:

Manufacturers self-certify their compliance to AEC-Q requirements
Each user is responsible to review the qualification data to verify the compliance to AEC-Q requirements

Quality is based on:

Heavy qualification procedure (several hundreds of parts)
Determination of Early Life Failure Rate (ELFR) – for microcircuits
Strict control of material and process changes
SPC (Statistical Process Control) based on volume
Different grades of components are defined according to their temperature range with associated qualification tests.

Grade 0 : -40C to +150C (microcircuits) or -50C to +150C (passive)
Grade 1 : -40C to +125C (microcircuits & passive)
Grade 2 : -40C to +105C (microcircuits & passive)
Grade 3 : -40C to +85C (microcircuits & passive)
Grade 4 : 0C to +70C (passive – non-automotive)

As a result:

No screening process is imposed.
No periodic lot qualification is required.
Production Part Approval Process (PPAP)
PPAP defines the approval process

for new or revised parts, or parts produced from new or significantly revised production methods. 
There are 5 levels of PPAP submission. Generally Automotive uses the level 3 : Part Submission Warrant (PSW) with product sample and complete supporting data.

The PPAP process consists of 18 elements that may be required for approval of production level parts. Not all of the elements are required for every submission. 
Design Documentation

Engineering Change Documentation

Customer Engineering Approval

Design Failure Mode and Effect Analysis (DFMEA)

Process Flow Diagram

 

Process Failure Mode and Effect Analysis (PFMEA)

Control Plan

 

Measurement System Analysis Studies

 

Dimensional Results

 

Records of Material / Performance Tests

Initial Process Studies

Qualified Laboratory Documentation

Appearance Approval Report

Sample Production Parts

Master Sample

Checking Aids

Customer Specific Requirements

Part Submission Warrant (PSW)
The resulting PPAP submission provides the

evidence that the supplier has met or exceeded the customer's requirements

and the

process is capable of consistently reproducing quality parts

.

Contrary, in space, CoC (Certificate of Compliance) certifies that a series of tests has been done. It does not warrant a failure rate of components.
Comparing Hi-Rel and Automotive Standards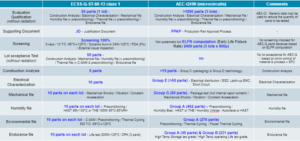 Comparing Hi-Rel and Automotive Parts – A Summary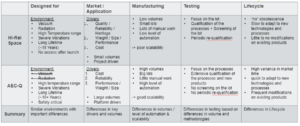 -> make use of the advantages & manage the differences!
Selection of Automotive Components for Space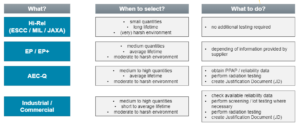 -> it' not about either … or …, it's about both … and …!
Selection of Automotive Components for Space
two experiences when selecting automotive parts:

overall it is important to put high emphasis on the selection process

strive for standardization (PPL / EEE Roadmap)

well connected multifunctional teams required 

connecting experts with regards to radiation, EEE parts, design, manufacturing, testing, procurement & customer support

have clear requirements / establish reliable & efficient processes for additional testing

make sure data & information is stored and well accessible
Procurement of Automotive Components for Space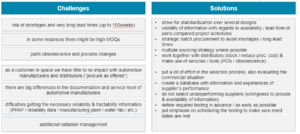 Use of Automotive Components by ADS in New Space programs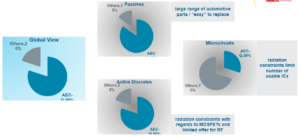 Main Takeaways
AEC-Q parts are a good alternative for usage in space programs

low price / high reliability / very low dispersion 

there are inherent differences between AEC and Hi-Rel methodologies, which have to be managed

there are a variety of component levels available! It's the challenge of the user to identify what the best fit for the parts need is (Hi-Rel / EP / AEC-Q / Commercial)
Put high emphasis on the evaluation & the selection process of parts

strive for standardization (PPL / EEE Roadmap)

well connected multifunctional teams required 

connecting experts with regards to radiation, EEE parts, design, manufacturing, testing, procurement & customer support

have clear requirements / establish reliable & efficient processes for additional testing

make sure data & information is stored and well accessible

Experiences made with "automotive" parts

"automotive" / "automotive qualified" / "automotive applications" is often not "AEC-Q xxx" 

Some manufacturers states that AEC-Q is taken only as a guideline

Some manufacturers declare to be AEC-Q qualified but no data is available on their websites or upon request

Some testing conditions of procured parts haven't been compliant to AEC-Q requirements when checked

due to the limited volume in space we experienced difficulties in receiving the necessary information (e.g. PPAP)
-> responsibility of the buyer to check documentation and adherence to AEC standards
-> need for Justification Document for AEC-Q parts
The Authors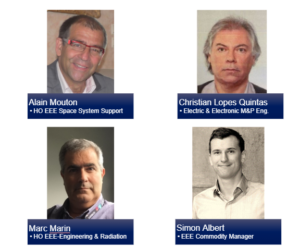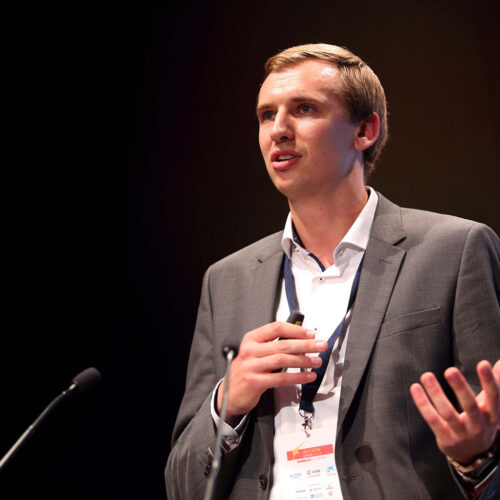 Latest posts by Simon Albert
(see all)