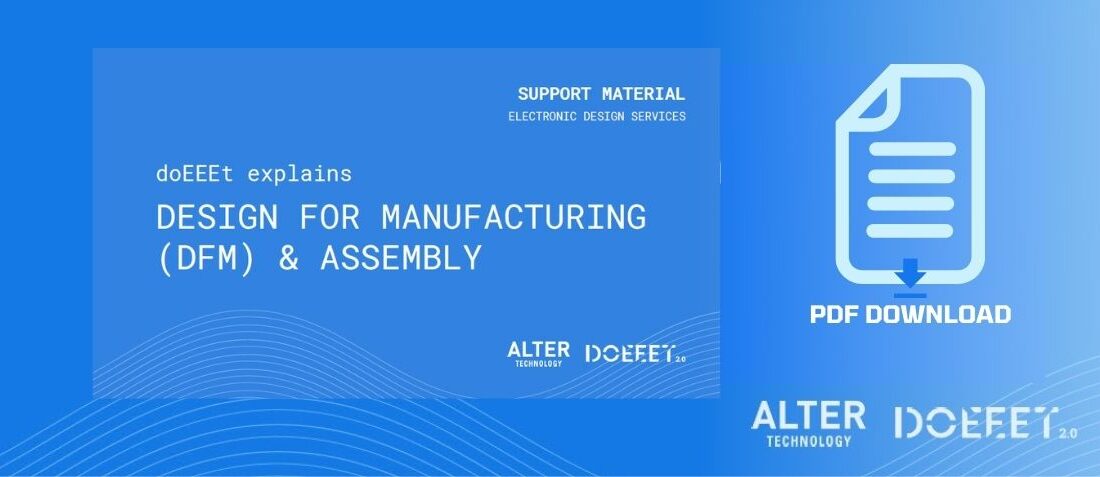 Posted by doEEEt Media Group
On April 7, 2022
0
doEEEt explains:
Design for Manufacturing and Assembly
In this "Support Material", doEEEt explains what DFM is about and gives some key points to make your design compatible with manufacturing and assembly.
Design for Manufacturing (DFM) describes the process to design an Electronics circuit so that manufacturing efficiency of the product being designed is improved as much as possible. It is a set of rules or guidelines meant to facilitate the manufacturing process. The manufacturing process has a direct impact on the cost and quality of the product.
There are generic rules for DFM based on standard electronics manufacturing processes but also more specific rules or guidelines coming from the process engineers and technicians, who are the ones who actually know their equipment capabilities.
ALTER provides electronic design services, from concept design to manufacturing. Our team is formed by highly experienced engineers in the different fields of electronic design, including Analog, Mixed-signal, and Digital Design, Power Electronics, Optoelectronics, RF PCB layout, and FPGA, covering application fields like aerospace, automotive and industrial.
Fill out the form to download PDF 

Latest posts by doEEEt Media Group
(see all)