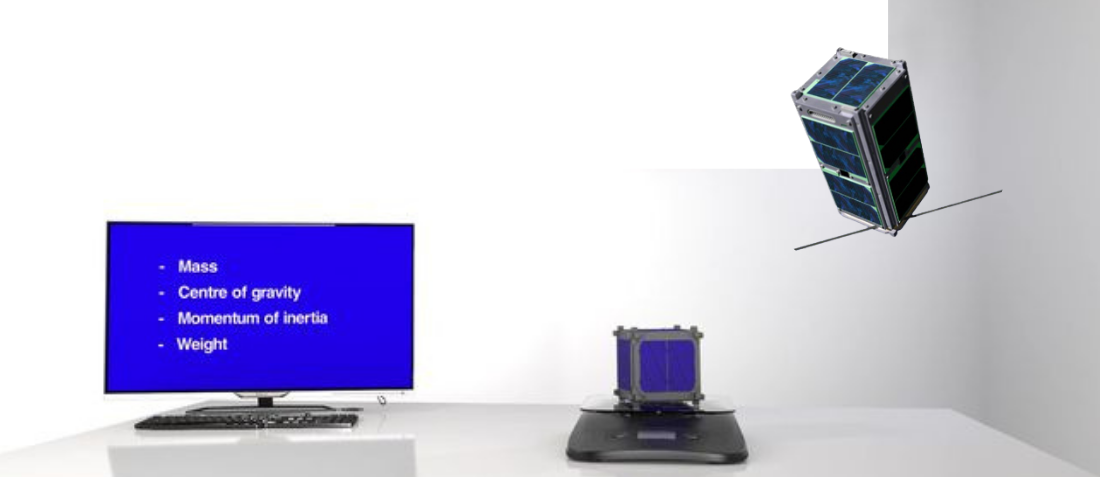 Posted by doEEEt Media Group
On March 2, 2022
0
 A typical New Space qualification campaign is performed on a Structural Model (SM), Protoflight Model (PFM), and Flight Model (FM). Testing campaigns for any kind of small satellite or subsystem include:  
Vibration

Test

Shock Response Spectrum (SRS)

 

EMI/EMC testing

Thermal vacuum (TVAC)

 

TID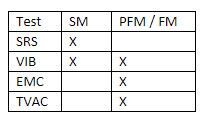 Other more specific small sats tests needed may include:  
Optical tests

 

Electrostatic Discharges (ESD)

 

Materials tests (mechanical, electrical, cleanliness)

 

Magnetic tests

 
Test flow of a New Space Projects qualification campaign

 
 The typical test flow of a new space qualification campaign is:  
Structural Model: Shock Response Spectrum (SRS) -> Vibration test  
SRS is more aggressive than VIB and if the CubeSat is not ready to pass SRS, it is preferable to know it from the beginning. 
Protoflight Model: Vibration test -> Electromagnetic Compatibility (EMC) ->Thermal Vacuum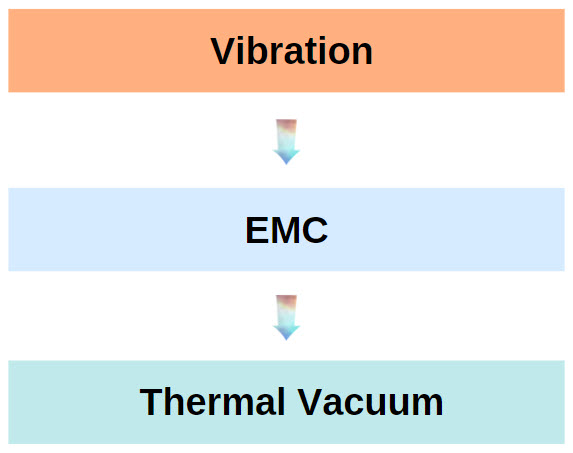 TVAC is typically the last test (see below) because it includes a bakeout. VIB might also be a destructive test, so you want to perform it soon. Therefore, the typical flow is:  
It is important to mention that while Structural Model (SM) does not require cleanliness conditions, Protoflight Model (PFM) requires at least ISO8 cleanliness or even ISO5 for optical payloads.  
ISO 8  is the least clean cleanroom classification. A cleanroom must have less than 35,200,000 particles/m3 particles > 0.5 µm and 20 HEPA filtered air changes per hour.  
ISO 5  is a super clean cleanroom classification. A cleanroom must have less than 3,520 particles/m3 > 0.5 µm, and 250-300 HEPA filtered air changes per hour.  
A cleanroom is a room with a controlled environment where products are processed. It is a room in which the concentration of airborne particles is controlled to specified limits. 
Quality Assurance and traceability for New Space projects
A New Space test laboratory needs to comply with several standards that prove the quality of the work:  
Quality Management System (QMS) is accredited by compliance with ISO 9001. This standard ensures that processes are followed strictly: relationship with the client, traceability of tests, reporting, treatment of non-conformities, etc.

 

Accredited test lab by standard ISO/IEC 17025 for a certain set of tests: compliance with this standard ensures that the tests are performed correctly: appropriateness and calibration of test means, training of the staff, independency, and impartiality of the test laboratory.

 

Compliance with other standards is also recommended, such as ISO 14001 (Environmental Management System) or ISO 45001 (Occupational Health and Safety Management System).

 

Moreover, ALTER has implemented its Virtual Lab platform, an IT tool that allows:  
Remote, real-time follow-up of the test results.

 

A single, real-time communication channel between Alter and its clients.

 

Limit staff travel for testing to a strict minimum.

 
European Cooperation for Space Standardization Glossary
Structural Model (SM

):

A structurally representative model of the flight model used for qualification of the structural design and for correlation with structural mathematical models.

 

Protoflight Model (PFM): 

Flight model on which a partial or complete proto flight qualification test campaign is performed before the flight.

 

Flight Model (FM):

 

End product that is intended for flight.

 
SMALL SATELLITES
Small Sats Testing
ALTER works the New Space through the Small Sats testing, improving your time to market and at a lower cost.
GET IN TOUCH TODAY!
Do you have questions? Contact us!

Latest posts by doEEEt Media Group
(see all)