Posted by Luis de Pablo Martinez
On December 3, 2019
0
Agenda
INTRODUCTION: WHY AEC FOR LAUNCHERS

SOME FIGURES FROM ARIANE-6: 70% AEC

SUPPLIERS. THE KEY DECISION. TRACEABILITY & COUNTERFEIT

CONTROL OF PCN/PDN. OBSOLESCENCE & LAST TIME BUY

AEC-Q MANUFACTURERS FEEDBACK: FROM THE VERY BAD TO THE VERY GOOD

INCOMING OF AEC-Q DEVICES (100% VISUAL &XRF): NO FAILURES

CONSTRUCTIONAL ANALYSIS: DELAMINATIONS

ROHS & REACH: INTERNAL PB SOLDERINGS

CONCLUSIONS
INTRODUCTION: WHY AEC FOR LAUNCHERS
ARIANE-6:   A6-GR-1000000-X-32-ASL Issue 1 EEE Components & Assembly technologies policy

Ariane-5 Large Heritage with AEC-Q  devices. Field Return: No failures 

AEC-Q devices meet A6 requirements on Components Reliability Data

AEC-Q devices meet A6 requirements on whisker data 

No Total Ionisation Dose (TID) / Total Non Ionisation Dose (TNID) requirements for launchers but Single Event Effect: avoid non recoverable effects a LETth<35MeV*cm2/mg 

AEC-Q devices: Constructional Analysis as per ECSS-Q-ST-60-13C, and heavy ions testing as applicable

RoHS & REACH required 

This policy is in line ECSS-Q-ST-60-13c Grade-3 except by ROHS & REACH and lack of TID/NITD

EEE Components meeting Araine-6 requirements are classified in TAS Parts Common data Base as Grade-4 to segregate with other Grade-1/Grade-2/Grade-3 COTS as per ECSS-Q-ST-60-13C

VEGA-C : VG-SG-1-D-0032-SYS Iss.2 Rev.1 VEGA-C Launcher Vehicle EEE components's policy  

Similar approach as Ariane-6 for the "Industrial procedure". 
SOME FIGURES FROM ARIANE-6: 70% AEC
TAS in Belgium Analysis :

4 Equipments: 596 line items (374 passives, 109 connectors, 113 actives). 407 are automotive ; 169 pure commercial ; 14 are PEDs (Plastic Enhanced Devices with Vendor Item Drawing); 6 are HiREL

TASiB. 93 Justification documents prepared. 

TASinSpain: 

1 Single Equipment: 96 line items (including passive values), 73 types where 43 are AEC-Q, 7 are PEDs (with VID), 22 are pure commercial, and 1 is 883B. 

54 Justification Documents prepared by TASiS, 13 reused from those prepared by TASiB. 

Total:

67% components are AEC-Q. 70% including AEC+PED.
SUPPLIERS. THE KEY DECISION. TRACEABILITY & COUNTERFEIT
Define 2 or 3 preferred and authorized distributors (DIGI-KEY; MOUSER, FARNELL, ARROW, AVNET…)

Provide the complete list to distributor for PCN/PDN tracking 

Clarify the needs to distributors:

Traceability (Lot Date Code; assembly Lot, wafer Lot)

1-year old Lots

Single Lot, Lot homogeneity

Appropriate packaging

Cannot accept non AEC-Q alternatives, different manufacturer alternative 

Counterfeit Controls(Visual, Fischerscope, Constructional Analysis / DPA…)

Problems with suppliers:

Lead Times  Very problematic for resistors and capacitors due to worldwide shortage. 2 or 3 sources recommended

Difficulties with requirement on single lot, tracebility, etc.. For some distributors

Very big minimum buys for some non preferred distributors

Export License for PEDs and some high end AEC (ECCN 3A001a.2.c; 5A991b; 3A991b.1a, etc..)
CONTROL OF PCN/PDN. OBSOLESCENCE & LAST TIME BUY
Follow-up of PCN/PDN imply a very huge amount of work. Recommended to be centralised by a single company. 

Follow-up of PCN is critical, along with Constructional Analysis and Incoming, for:

Changes affecting radiation (die:  mask number, diffusion site, second sources)

Changes affecting mounting qualification (assembly construction techniques, materials, assembly site, second sources for materials or assembly)

Reliability data

Obsolescence, Last Time Buy

Export Licernse

Countrefeit Controls

Obsolescence / Last Time Buy :

Although product life cycle of AEC-Q products are expected to be much longer than thiose of pure commercial, TASiS experienced 3 LTB in 2 years (2 of them AEC-Q) for `products with End of Life not expected before 2023.
AEC-Q MANUFACTURERS FEEDBACK: FROM THE VERY BAD TO THE VERY GOOD
Very big differences in the feedback and support from AEC-Q manufacturers 

from the VERY BAD:  almost no answer, impossible to get reliability data, PPAP (Production Parts Approval Process), info on ESD, support from Constructional Analysis findings, etc..

To the VERY GOOD:  willing to provide reliability reports PPAP, support for application and failures, etc…

Recommended :

Establish early communication channel with manufacturers

Work preferably with manufacturers with better support
INCOMING OF AEC-Q DEVICES (VISUAL & XRF): NO FAILURES
1st LOT INCOMING :

Visual Inspection: should follow JESD22-B101C (best standard, ESCC or MIL standard are not appropriate)

Fischerscope Inspection on 2 pieces 2 points whatever finish (pure tin, SAC, ENEPIG, etc…): 
No anomalies seen on AEC-Q devices but on commercial , custom magnetic, etc.
Findings were most cosmetic and in a fraction of per cent of devices: small chip-out, lead frame copper exposed, marks on terminations, etc..
CONSTRUCTIONAL ANALYSIS: DELAMINATIONS
Around 200 CA/DPA done. More than 100 on AEC-Q devices. Some more in progress

Constructional Analysis follows ECSS-Q-ST-60-13C for semiconductors and own TYAS standard for passive. For commercial metal-ceramic cavity RF devices (non hermetic, adhesive sealing) CA as for hirel hermetic excepting RGA

No anomalies found on AEC-Q devices excepted delaminactions seen in C-SAM inspection     

Delamination observed on at least 5 constructional analysis (2 of them were AEC-Q). 

All were classified as minor: very small size confirmed by micro-sections and very good bond pull results when delamination are located under bonding pads

Manufacturer feedback: considered them as cosmetic as not affecting AEC reliability testing

Manufactyurer feedback: follow J-STD-020E instruction to check for delamination evolution if any: 

Initial Electricals+Visual+C-SAM 

Conditioning (thermal cycling, bake, reflow)

Final Initial Electricals+Visual+C-SAM, plus measurement of crack/void growth if any. 
In progress at TASiS

Manufacturer feedback: could have less delamination for halogen free package version
CONSTRUCTIONAL ANALYSIS: DELAMINATIONS (CONT'D)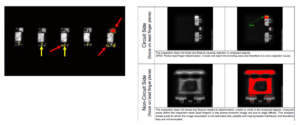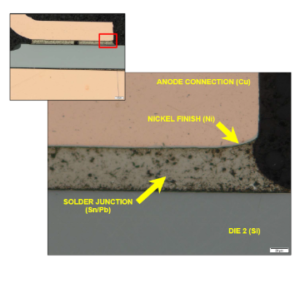 ROHS & REACH: INTERNAL PB SOLDERING
Observation in CA :  Internal Pb95Sn5 soldering not declared in data sheet (which states RoHs & REACH compliance) found in many diodes (5) y in transistors (2) in packages as D2PACK. 

It is allowed by exception 7a of Article 4(1) of RoHS Directive 2002/95/EC mainly for:

5. Lead in glass of cathode ray tubes, electronic components and fluorescent tubes.

7a. – Lead in high melting temperature type solders (i.e. tin-lead solder alloys containing

more than 85 % lead),

7d – lead in electronic ceramic parts (e.g. piezoelectronic devices).
CONCLUSIONS
No major anomaly found on AEC-Q devices during constructional Analysis (except minor delaminations, or non RoHs internal Pb soldering) or  during Incoming. 

Constructional Analysis on each lot has a high added value (lot to lot variability tracking, Counterfeit, PCN, RoHs). Incoming Visual has low added value on 2

nd

lot.

Get complete Lot Traceability, single lot, less than 1-year lots could be difficult: work only with preferred distributors. 

Follow-up of PCN/PDN is critical. 

Increase attrition policy. Inert storage recommended.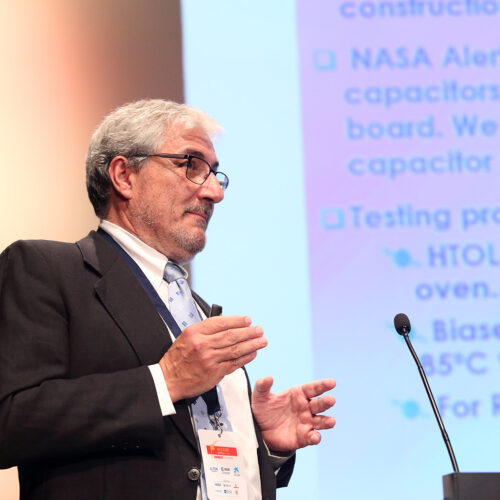 Latest posts by Luis de Pablo Martinez
(see all)