Posted by Fabio Vitobello
On December 3, 2019
0
EU Space Strategy
In 2016, the European Commission published a Space Strategy for Europe with the objectives:
maximizing the benefit of space for society and EU economy
Fostering a competitive and innovative European sector
Reinforcing Europe's autonomy in accessing and using space
Strengthening Europe's role as a global actor
The Space Programme proposal for 2021-2027 includes four components:
Galileo/EGNOS
Copernicus
Space Situational Awareness (SSA)
Secure Governmental Satellite Communication (GOVSATCOM)
Space R&D activities within the Horizon Europe proposal will support:
R&I needs of the Space Programme
competitiveness of the EU Space sector primarily through space technology development.
A changing Space…
Since the beginning of the 90s private customers emerged progressively

33% of the mass launched in 2017 was for private customers
Growth of the number of launches of micro and nanosatellites

Over the last 7 years: 43% of spacecrafts launched are below 10kg

Strong trend in the use of large constellations, many declared projects:

OneWeb, Google/SpaceX, Samsung, LEOSat, TeleSat, Commsat
Iridium Next, Norstar, LEOsat, Galileo, TerraBella, Jilin
PlanetiQ, UrtheCast, Laserlight…
New Space Practices
New Space practices, particularly evident in constellations, based on

Target very low cost
Modularity, no modification allowed – use as is
Go fast, fail quick, restart
Large series production methods, robotic assembly, supply economies
Share common resources – RF spectrum, access to space…
Acceptance of higher risks
Systematic use of COTS
Using COTS in Space is not just a pick and place exercise, a structured approach is necessary
Critical elements
Limited traceability
Limited access to qualification and supply chain data

Unless parts qualified based on Automotive standards e.g. AECQ100

Unknown radiation performance

Testing and screening is mandatory

Product turnover, process changes, obsolescence
Lead-free terminations

Sensible aspect considering that the REACH regulatory pressure may result on difficult market availability of leaded solder paste and coatings
In return, very low cost if compared to a space qualified part
Strategic Research and Innovation Agenda
Guidance and recommendations for Space Research in Horizon Europe
Consultation of a broad base of stakeholders

How COTS are seen by the SRIA?
Technology Transfer, Manufacturing, Assembly and Testing at larger-scale
Need to enhance the coordination and create synergies by sharing technologies between space and non-space sectors
Best use of COTS components as a response of spin-in activities from non-space
Prospecting, promoting, demonstrating and qualifying technologies developed for other markets
HOW?
Prospective of funding for projects aiming at bringing COTS components into Space applications
Support to specific actions aiming at:

Evaluating compatibility of aeronautics, automotive, commercial parts with Space requirements
Building a shared European industrial knowledge
Time line for COTS in Space Research and Conclusions
In 2020 the preparation of the Horizon Europe Space Work Programme based on the SRIA will take place
Place holders were introduced in the SRIA covering many aspects of the Space Research including also the use of COTS
What shall we do first, what will be the priorities?
This conference and other discussions that will take place in the next months will be considered for deciding the priorities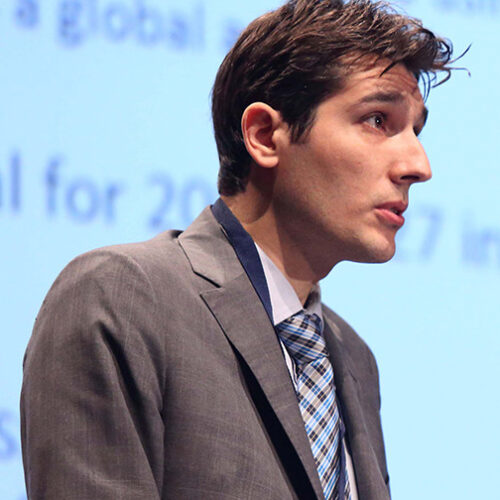 Latest posts by Fabio Vitobello
(see all)