Posted by Charlene Doucet
On December 3, 2019
0
About Charlène Doucet from CNES :
Charlène Doucet is currently working as a EEE Components engineer in the Components Policy and Qualification Section in CNES. She is doing project support (JUICE, SWOT, EXOMARS, …) and she is responsible of R&D activities and ESCC certification of French manufacturers for magnetics and time and frequency components.
About Anastasia Pesce from ESA:
Anastasia Pesce is currently responsible for the Radiation Hardness Assurance and Component Analysis section in the Technical, Reliability and Quality Division at the European Space Agency. She is leading the EEE component standardization and qualification activities at the European Space Agency since 2011.
Context and organization
ECSS-Q-ST-60-13C – published on October 2013
Update of the ECSS-Q-ST-60-13C standard was proposed by Airbus DS and supported by TAS as part of PSWG discussion topics
PSWG agreed to discuss the changes to the ECSS-Q-ST-60-13C
A PSWG ad-hoc WG was nominated to discuss and propose the changes to be submitted for the update of the standard
A New Work Item Proposal has been prepared and approved by the ECSS Technical Authority in September 2019
Participants : 
Industry: Eurospace represented by ADS, TAS

Space agencies : ESA, CNES, DLR (supported by TESAT (ADS/D)

Procurement agencies : ALTER, TESAT (as part of ADS/Eurospace)
Rationale
Market changes :  Constellations, reduction of costs and development time
New criteria for parts selection : use of automotive qualified components, inclusion of passive parts
Industry Lessons Learned from Constellation programs
Main changes proposed 
Update criteria for the acceptance of pure tin components for the three classes
Criteria for the acceptance of Automotive qualified parts
Extend the scope to commercial passive parts
Use of pure tin components
Objective: Retinning not mandatory
How? Compliance with JEDEC standard JESD-201 class 2 requirements for tin whisker mitigation
Status: Debate currently open on how to verify the compliance as part of the lead free control plan
Automotive qualification
What is AEC-Q?
Specifications « Failure Mechanism Based Stress Test Qualification For … »

Integrated Circuits (AEC-Q100)

Discrete Semiconductors (AEC-Q101)

Discrete Optoelectronic Semiconductors in Automotive Applications (AEC-Q102)

Sensors in Automotive Applications (AEC-Q103)

Multichip Modules in Automotive Applications (AEC-Q104)

Passive components (AEC-Q200)

Automotive : Self certification between a customer and a manufacturer

High volumes 

Fixed process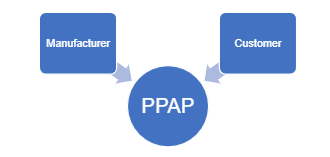 For space users (low volumes compared to automotive)

Trusted manufacturers (to be defined)

Reliability data available

Introduction of commercial passive parts 
Initiated as a Dedicated working group with members of the ESCC CTB Passive WG
Distinction between AEC-Q200 and commercial level

Requirements per family and technologies

Requirements aligned with current ones defined for active parts to assess long term reliability and early failures:

Evaluation test flow

Lot Acceptance flow

Screening flow
An Example of a Proposed Draft Evaluation flow for ceramic capacitors under discussion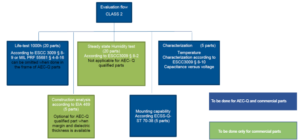 What's next?
PSWG ad-hoc WG to agree on the final draft of the ECSS-Q-60-13C Rev.1 and associated change requests
The draft will be submitted to ECSS secretariat for preparation and release for public review (2+8 weeks)
Comments during public review are collected via ECSS.nl. ECSS secretariat provides the comments to the PSWG ad-hoc WG
The PSWG ad-hoc WG will disposition the comments received during public review and send the comments back to the ECSS secretariat that provides them to the ECSS TA
ECSS TA members will give feedback on how the WG dispositioned comments (2-3 weeks)
ECSS TA members vote for publication approval
Finally revision 1 of ECSS-Q-ST-60-13C will be published on ECSS.nl and publication in the DOORs module of ECSS-Q-ST-6013C Rev.1 will be produced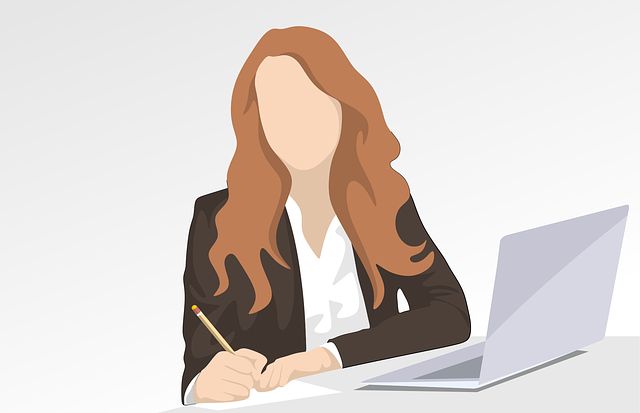 Latest posts by Charlene Doucet
(see all)