Posted by Silvia Natalucci
On December 3, 2019
0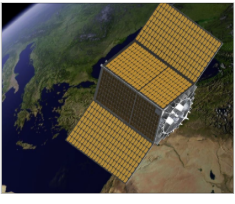 PLATiNO: the new ASI "multi-purpose" platform for small satellites
In response to the rapid increase in interest in the use of small satellites, for different types of mission in low earth and interplanetary orbits, the Italian Space Agency have supported a line of national technological developments to allow the realization of a new generation of modular and multi-mission platform for small satellite. 
This initiative named PLATiNO is devoted to be internationally competitive and to offer an excellent opportunity to test new Italian technologies
PLATiNO primary objectives
TECHNOLOGY: Identify and develop national technologies that can increase the Italian capacity to implement space missions based on small satellites and allow acess to technologies currently precluded at national level;

PRODUCT: to create totally innovative product line, a small multi-mission platform with different possible configurations, capable of operating in different mission scenarios and with different types of payloads, and able to satisfy the emerging demands of the commercial market and istitutional;

COMPETITIVENESS: to realize a supply chain and a production structure that allow to place on the market a recurring platform product, characterized by competitive development times and costs at international level.
How to reach the objectives?
To this aim one initiative involved investigating the possible use of commercial grade electronic parts in spacecraft design has been promoted.
Usage of COTS components for space applications are already a reality for the following reasons:
better performances:

applications are becoming more and more sophisticated and need state of the art EEE Components for their implementation
better availability

compared to market non-availability of traditional level components due to diminishing sources
Reduced Cost of Ownership
The question is not "COTS authorised or not" but authorisation with which conditions (i.e. with which additional tests).
Constraints on COTS usage
Only grade 1 (ECSS-ST-Q-60- Parts class 1;  NASA EEE-INST-002-Parts category 1; JAXA QPL class 1) connectors are allowed at equipment interface

Commercial extended temperature range (-55°;+125°C) from MIL QML lines and commercial parts with industrial grade (-40; +85°C minimum) shall be avoid for:

Cristal Oscillator

Cristal

Electromagnetic relays

Hybrids
Manufacturer selection policy
Manufacturers from which COTS parts can be selected shall have implemented (and maintain):
An effective systems for process characterization and process control or an effective systems for qualifying processes and products.

A reliability test program for generating reliability data for processes and products.

An effective policy installed for ensuring continuous process improvement.

A responsive behavior for application and failures related issues and, 

A web-site with updated data-sheet, application notes , PCNs, technical support,

A responsive behavior, accepting audits/visits in their production site

Due consideration shall be given, for commercial parts, to Suppliers which are AEC-Q qualified or implement an Enhance Product (EP) line (with controlled manufacturing baseline, one assembly/test site and qualification data available on request)
Collection of available data on the candidate COTS parts
Technological and technical description related to the part 

Electrical, thermal, mechanical performance characteristics

Constructional characteristics

Radiation tolerance performances

Information about lot homogeneity, traceability, marking and coding,

identification of any existing specification or procurement document or data sheet.

information on potential export license limitations

reference to parts previous usage (if any) 

any element available to support parts approval (previous DPA, Constructional Analysis, LAT or screening data, RVT reports, etc.),
COTS EEE parts selection policy
In case the previous required data are considered as not sufficient, the selected part shall be submitted to an Evaluation as per ECSS-Q-ST-60-13 C that shall contain, as minimum:

Constructional Analysis (CA)

Radiation Test (TID, SEE), if applicable
For pure tin parts, retinning results shall be part of evaluation and shall validate the retinning procedure.
COTS EEE parts qualification Policy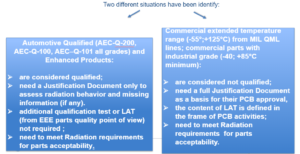 Justification Document (JD) content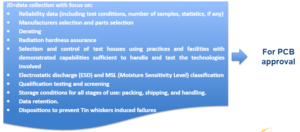 PCB approval approaches
The following approaches, by order of preference can be considered:
Justification based on statistical test data from the manufacturer with acceptance criteria and demonstration that yield figures, SPC, and tests data are relevant and fully representative with respect to the procured lots.

Additional tests results performed at Printed Board Assembly or equipment level in case data on some specific component parameter is missing, the conditions shall be proposed by the User and agreed at PCB.
Screening policy for COTS
PIND and seal tests are required for hermetic packages with cavity.

Extended burn-in /cycling tests at printed board assembly or equipment level is required for screening of infant mortality, 

tests shall be designed in such a way that accumulated stress will not jeopardize parts, materials, assemblies, boards or equipment reliability.

The most dissipative (highest Tj) commercial grade component shall drive the maximum temperature conditions of the entire assembly or equipment. The test procedure shall be designed on the basis of the thermal analysis results.
Derating rules for COTS EEE parts
The derating rules stated in the ECSS-Q-ST-30-11C (rev.1) or NASA-EEE-INST-002 (for OTS units from US Suppliers) shall be applicable to EEE parts with Automotive Grade (AEC-Q), Extended Temperature range from QML and Industrial Grade.

For commercial components, a minimum 10 °C margin shall be used between the maximum manufacturer temperature range and the application temperature range (including worst cases). In case |(manufacturer max temperature range – used max temp)| < 10 °C, an electrical characterisation shall be performed at used temperature with an additional margin of 10 °C during the evaluation step.
COTS EEE parts pure tin policy
Parts with pure tin finish are allowed, provided that:
they pass the JESD-201 class 2 requirements or meet the GEIA-STD-0005-2/Class 2B requirements and

are not used in power function (Voltage>15V & Current>2A).
If one of the two above conditions is not met, one or more mitigation actions shall be submitted at MPCB for approval.
Obsolescence and stock procurement management
In case of commercial grade parts being subject to obsolescence (last time buy notice issued), procurement of the total needs for the program shall be preferred (to be approved at PCB). 

Due to unknown handling conditions, traceability and counterfeit issues, procurement of commercial components from stock other than a manufacturer stock or an authorized /franchised distributor is prohibited.
Prohibited parts policy
According to ECSS-ST-Q-60C, for limited life duration, known instability, safety hazard or reliability risk reasons, the EEE components listed below shall not be used:
Hollow core resistors,

Potentiometers (except for mechanism position monitoring),

Non-metallurgically bonded diodes

Semiconductor dice with unglassivated active area,

Wet slug tantalum capacitors other than capacitor construction using double seals and a tantalum case,

Any component whose internal construction uses metallurgic bonding with a melting temperature not compatible with the end application mounting conditions,

Wire link fuses < 5 A,

TO5 relays without double welding of the mechanism to the header or with any type of integrated diodes inside.

RNC90 > 100 k Ω,

TO3 and DO4/DO5 packages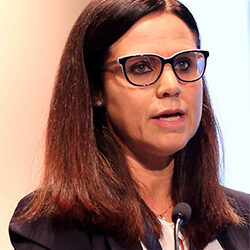 Latest posts by Silvia Natalucci
(see all)