Posted by Ferdinando Tonicello
On December 3, 2019
0
This presentation address the guidelines for COTS components and equipment or subsystems of different criticality categories for ESA.
WHY COTS COMPONENTS AND MODULES IN SPACE?
Cost advantage

, only for large volumes or low reliability/low radiation application where important risks might be taken.



Performance advantage

not obtainable by classical Hi-Rel components



Lack of Hi-Rel components

for performing that function



Availability of production capability of supply chain for terrestrial use

ESA's Initiative on COTS

Output

Interim report

to the ESA Executive Board (presented 29 Oct 2019) with

set of recommendations for the use of COTS in future Agency programmes

/"new space",

plus a roadmap/ required next steps to achieve them



Final report

to the ESA Executive Board (to be prepared by Q1 2020)
Who's involved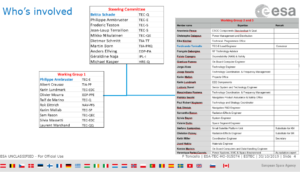 WG tasks
WG1
Definition of the COTS EEE components

perimeter

for space. 

What is available/industrial

landscape

? – Normative landscape? 

Where

do we use

COTS

today

? 

How

do we use COTS

today

? 

Current best practices and lessons learned.
WG 2/3
Perform the

classification of the COTS

component categories according to (applications)

risk classes

;

Identify

procurement

,

screening

,

application

and

test methods

for COTS components and modules in the different application risk classes;

Identify a roadmap of the necessary R&D (and other) activities to finalise the proposed COTS components and modules approach.
WG 2/3 finalised a TN
Set of guidelines

and not requirements

Balanced approach

especially between

reliability

and

radiation

performances, according to a

progressive scheme

from

higher

to

less risk taking

Addressing the

i

ssue of

small procurement lots

and

relevant

lot homogeneity issues
Addressing the application of COTS parts in modules, equipment or subsystems of different criticality categories for ESA institutional missions.
Projected advantage: on a given mission, different criticality categories can appear, depending on the nature of the considered modules, equipment or subsystem.
Example: essential vs experimental or "expendable"  item.
Classification of criticality categories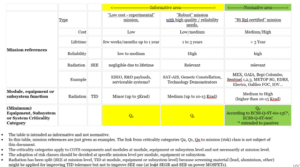 Critical aspects coverage
For each criticality category Q2, Q1, Q0 the following aspects are addressed:
Perimeter of application

Methods to resolve the critical points relevant to
RAMS

(Safety, dependability, FMECA…)
EEE components

general issues
Radiation

(TID, TNID, SEE)
Economy of scale/supply chain
approaches for data sheets review, electrical analyses needs, mitigation techniques, reference application circuits, modules
Recommended activities to finalize the proposed COTS components and modules approach
Update of ECSS-Q-ST-60-13C

This activity is running, ESA participates through TEC-QES (Requirements and Standards) and TEC-EDC (EEE components).

Identification of safe operation factors for criticality categories Q2 and Q1

Proposed ESA focal points: TEC-QEC (radiation), TEC-EDC (EEE components).

 COTS components and modules, information gathering

Proposed ESA focal points: TEC-QEC (radiation), TEC-EDC (EEE components).

Reference application circuits

Proposed ESA focal points: TEC-ED (digital components), TEC-EPM (power and analogue components)

New test methods for modules and boards

Proposed ESA focal points: TEC-QEC (radiation) and TEC-EDC (EEE components)

Lead free recommendations

Proposed ESA focal points: TEC-MSP (Materials & Processes), TEC-EDC (EEE components), TEC-QEE (Materials' Physics & Chemistry)

Good practices for Radiation

Proposed ESA focal point: TEC-EPS (Space Environment and Effects)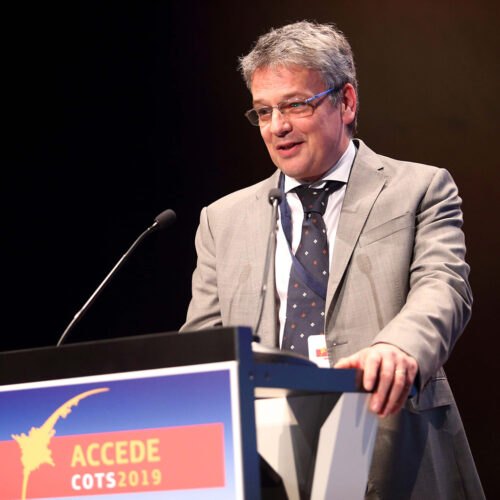 Latest posts by Ferdinando Tonicello
(see all)