Posted by doEEEt Media Group
On July 6, 2021
0
To perform a TID irradiation testing on Small Sats, including any spacecraft destined for space, it is necessary to focus on the different standards and to do it according to those in which it has been determined that it is required to perform the test.
In order to perform a Total Ionising Dose (TID) test, we must take into account the differences between one standard and another.
With 30 years of experience and more than 1000 TID testing campaigns for ESA projects and space programs, Alter Technology is the perfect partner to help you perform any irradiation-related test.
TID Irradiation Testing Parameters
For radiation effects to be visible in SMALL SATS, the device must have reached a tolerance limit, either in cumulative dose (TID) or particle fluence (TNID). It is by knowing device-specific data that device behavior can be predicted and predicted.
SMALL SATS tests are carried out in our laboratories to simulate the type of irradiation to which they may be subjected in a given period of time and at different stages.
For a TID test to be successful, a series of parameters must be taken into account:
A radiation source, Dosimetry, Electrical testing, Bias condition, Environmental conditions, the temperature is vital during electrical testing.
How the irradiation tests are performed on the different SMALL SATS can affect the results, which is why standards have been identified that describe the test method to be applied, including the characteristics of the irradiation facilities where the tests are to be applied performed.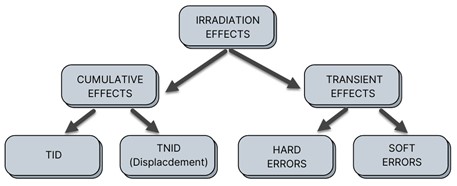 Main test methods for TID Test 
For TID test, there are four main test methods:
ESCC 22900-5: ESCC (European Space Component Coordination) Total Dose Steady-State Irradiation Test Method.
MIL-STD-750 TM1019.5: MIL-STD (US Military Standards) Steady-State Total Dose Irradiation Procedure.
MIL-STD-883 TM1019.9: "Ionizing Radiation (Total Dose) Test Procedure" of MIL-STD (US Military Standards).
ASTM F1892 -12 (2018): "Standard Guide for Testing Ionising Radiation (Total Dose) Affecting Semiconductor Devices".
In order for SMALL SATS to be tested effectively, it is recommended that a test plan is drawn up in which all concepts (electrical and radiological) are defined and agreed upon by both the customer and the test company.
We have to consider that this type of testing involves a series of variables and processes that must be kept under control to guarantee the correct execution of the test and compliance with the test method used.
It is important to bear in mind that the guarantee of quality and safety in our ALTER TECHNOLOGY facilities comes from the definition of the test plan to the issuing of the test report; it is necessary to establish an appropriate methodology.
GET IN TOUCH TODAY!
Do you have questions? Contact us!

Latest posts by doEEEt Media Group
(see all)