Posted by Bernd Neubig
On December 3, 2019
0
Content
Introduction AXTAL – Advanced Crystal Products
Requirements for Quartz Crystals in Space
Quartz Crystals compliant to ECSS3501
  Scope of ESCC3501

  Tests

  ESCC3501 Qualified Quartz Crystals and Manufacturers

  ESCC3501 Crystals from Non-ESA Qualified Manufacturers

  Sourcing Options
Up-Screening of Precision Crystals

COTS Quartz Crystal Units
Up-Screening of COTS Crystals (Space-COTS Crystals, SCC)
Wholly privately owned company, founded in November 2003 by Bernd and Brigitte Neubig
Bernd Neubig: More than 40 years technical experience in the Quartz Industry
Development, Prototyping, Testing, and Manufacturing of Frequency Control Products, namely High Performance Crystal and SAW Oscillators and Ultra Low Noise Frequency Control Modules
Design & Manufacturing of Oscillators for Space since 2011.
Listed on ESA EPPL since 2014 (OCXO AXIOM6060 series)
Military (Ground, Mobile, Marine, Aerospace)
High Precision RF Test Equipment
Facility location: Mosbach/Baden in South West Germany
Complete manufacturing line, extensive  test equipment, Quality Management, R&D
Quartz crystals sourced from selected manufacturers, ITAR free
Requirements for Crystals in Space
 … Strongly depending on the application
 Mission: LEO, MEO, GEO, Interplanetary, Deep Space 

 Reliability Level: Cubesats, Scientific, New Space, Navigation, Telecom

 Mission Time
 … Strongly depending on the needed technical parameters 
 Frequency Accuracy 

 Frequency Stability over Time (Aging)

 Frequency Stability vs. Environmental Conditions

Mechanical (Shock, Vibration)

Radiation (TID, SEE)

 Spectral Purity, Noise 
Extremes for Accuracy and Stability

 Precision Crystals

Frequency stability in the ppb-range (10

-9

) or better

Frequently combined with demanding spectral purity and Low Noise

Clock Crystals 
If not time-critical:  stability typically ±50 ppm … ± 100 ppm or more 

If connected with "coarse" timing:  n·1 ppm




1 ppm = 31.5 sec /year
 

And many applications in between …
Stability requirements drive Cost (Price) and Availability (Lead time)
Requirements for Quartz Material
Spontaneous small frequency changes




un-swept "conventional" quartz material: 10

-11

/rad, swept quartz ca. 10

-12

…10

-14

/rad

Slight reduction of Q-factor = slight increase of resonance resistance (low %)

Traditional approach (Precision Crystals): Swept Quartz material

Modern Crystal Growth Technologies

Ultra-low etch-channel  density (ECD), and low inclusions 

Performance close to Swept Quartz possible

Significantly lower material cost, shorter lead time

 

Majority of applications (µP clocks etc.) does not need the highest level of frequency stability -> non-swept quartz
Quartz crystal units in ESCC3501

Procedures for the ESA qualification of quartz crystal units 
Procedures for qualification of crystal manufacturers
Basis for the procurement and delivery of crystals from ESA-qualified manufacturers
  Qualification approval of quartz crystals


 Procurment of quartz crystals

Final Production Test (Chart II)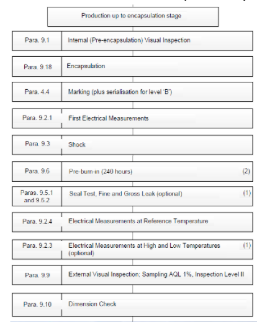 Burn-In & Electrical Measurement (Chart III)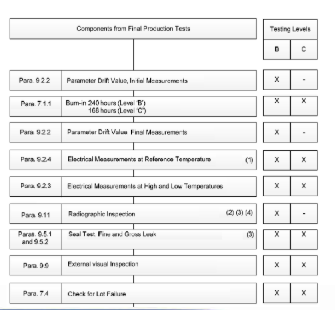 Lot Acceptance Test (Chart V) – optional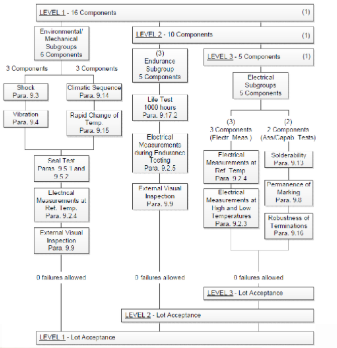 ESCC3501 Qualified quartz crystals and manufacturers
Detail Specifications ESCC3501/xxx

/001 to /012 obsolete, active …/013, /018, /019, /020, and Blank Detail Specification

 Package styles

THD: HC-35/U, HC-37/U, HC-40/U, (HC-27/U),    SMD: 7 x 5 mm²/4-Pad
Only one qualified Manufacturer in Europe

Qualified for two package styles (HC-35/U, HC-37/U) only

User knows what he is going to get

Proven quality from proven manufacturer

Profound technical specification system
Very limited number of package styles (no modern SMD packages)

Expensive

Long lead time

Insufficient flexibility for customer/application specific products

Not appropriate for Space COTS requirements
 …What percentage of crystals in space are really ESCC3501 parts?
Alternative 1: ESCC3501 components from AXTAL
 ESCC3501 compliant crystals from non-ESA-qualified manufacturer

Supplier should have heritage with products used space

No potentail or real risk with export / import regulations (ITAR or EAR)

AXTAL:

Long lsting close cooperation with CROVEN CRYSTALS

in Canada

CROVEN supplies the crystals used in the EPPL listed AXTAL OCXO AXIOM6060

AXTAL is European agent for CROVEN high precision crystals since 2017

CROVEN CRYSTALS:

Founded 1954, since 2006 wholly owned by Wenzel Associates

Leader in the design of precision qaurtz crystals

Long Space heritage (Mars -Observer, -Pathfinder, -Climate Orbiter, -Polar Lander…)

Canada is ESA member country

No ITAR issues

Audited and Pre-cap inspections yb AXTAL since 2017
Shipment through AXTAL with CROVEN document package

Optionally with LAT

Document package content TBD




 

Optional: Precap Inspection to ESCC2043501 or Factory Audit

By customer QM, accompanied by AXTAL QM expert

By AXTAL QM expert

Optional: Additional Tests, Burn-In or LAT performed by AXTAL

In accordance with ESCC3501 or Customer Specific

Radiographic Inspection IAW ESCC2093501 (external lab)

Total Dose Test IAW ESCC22900 (external lab)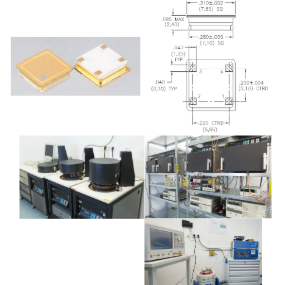 Alternative 2: Up-Screening of Precision Crystals
 Procurement of CROVEN crystals through AXTAL
Other manufacturers on request
 Non ESCC-3501 packages available
 

Lot Acceptance Test to ESCC3501
 

Level 1, Level 2 and/or Level 3
 Evaluation Test IAW ESCC2263501
 … performed by AXTAL Labs
 Most tests are in-house, complete document package
Alternative 3: "Space-COTS" Quartz Crystals
 Guidance in the Selection of suitable COTS Manufacturer
 More than 40 years experience and knowledge of the crystal market

 Use of recognized manufacturers

with Automotive approval, or 

with proven experience in MIL applications

with established Statistical Process Control (SPC) and Traceability System

 No use of Distributors or "Pseudo manufacturers"!
 Up-screening by AXTAL according to MIL-PRF-3098
 Up-screening by AXTAL to slim-lined MIL-PRF-3098
Up-Screening of COTS crystals: "Space-COTS"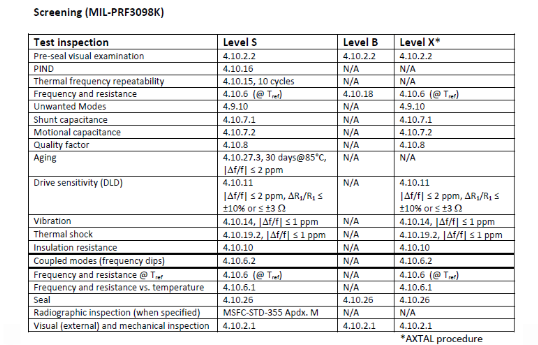 CONCLUSIONS
  ESCC3501 is a good guidance for crystals used in space

  For applications with challenges for low cost and short lead time ESC3501/xxx crystals are not appropriate
  Alternatives for COTS applications are
Use of precision crystals screened to ESCC3501 or MIL-PRF-3098 Level S
Up-Screening of COTS crystals with higher performance (e.g. Automotive grade)
MIL-PRF-3098 Screening Level S or B

Slim-lined MIL-PRF Screening "Level "X"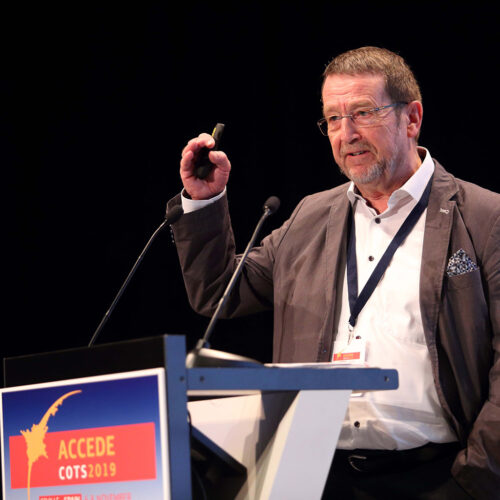 Latest posts by Bernd Neubig
(see all)