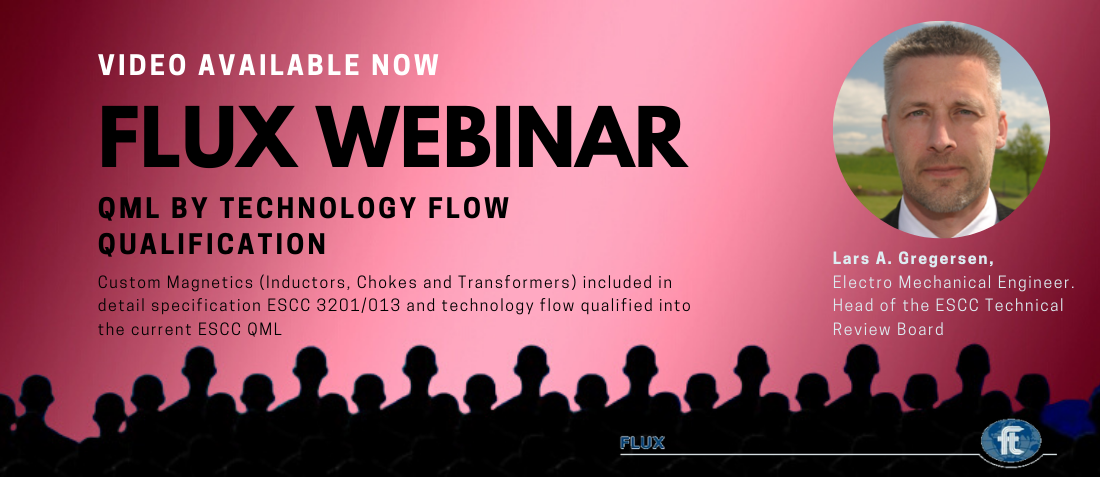 Posted by doEEEt Media Group
On June 28, 2020
2
In this webinar, you will be able to learn more about the work that the company FLUX has been doing for more than 30 years in the aerospace market and its most recent developments concerning QML.
The main focus of the parts made by Flux is the Surface Mounting Technology, which covers a series of inductors, door controllers, current direction transformers, MIL Bus transformers…
The Technology Flow Qualification to Detail Specification ESCC3201/013 "Customised Magnetics based on type FT" enables Flux to design, manufacture and test custom magnetics as ESA Qualified Parts.
Electronics Engineer Niels Overgaard Christensen, a passionate and inventive designer of High Voltage Transformers, founded Flux in 1980.
Flux entered the Space business in 1995, when signing an exclusive contract to supply Magnetic Components to Alcatel Space Denmark.
As Alcatel business in the Nordic countries wound down from 2001 and finally closed in 2003, Flux, released of the exclusive contract, offered its services directly to the established Space community. Within the first couple of years as commercial supplier, Flux established relations to the first customers such as Thales Alenia Space, International Rectifier and Norspace (today Kongsberg Norspace). These companies all had relations to the former Alcatel Space Denmark and Alcatel Space Norway. The client pool has grown ever since and Flux today supply numerous Primes and Equipment Builders worldwide. The Space market focus is Power Conversion and Distribution. In later years Flux has expanded the scope and developed many components for Control and Output stages of several Electrical Propulsion systems.
Since the beginning of our Space setup specialized in the design, manufacture and testing of Custom Magnetics, we have been developing a Generic Documentation based on the design rules of MIL-STD-981 and Performance Standard MIL-PRF-27 by application of testing in accordance with MIL-STD-202.
Full compliance to both MIL Standards and ESCC/ECSS Standards has proven a very strong setup allowing Flux to conduct business worldwide. Our main business is in Europe but we stretch geographically from California to Japan satisfying the needs of all our clients.
Achieving our status as ESA Qualified Manufacturer has been a process that required transforming our Generic Documentation into the ESCC platform. As our specialty was always Custom Magnetics, we agreed with The ESCC that the best way forward was to approve Flux by Technology Flow Qualification as an entity. Thus our entire organization, ruled by our Quality Management System (QMS), had to undergo a complete update not only to satisfy our accredited certifications to ISO9001 and EN/AS9100 but also ESCC. Introducing a dedicated method of supplying ESCC Qualified Parts require a special focus throughout the QMS and staff routines. In cooperation with ESCC, we authored Detail Specification ESCC 3201/013 "Custom Magnetics" to reflect our specialized setup.
An example of change to our organization is the establishing of a Technical Review Board (TRB). For each new ESCC Qualified design, the ESCC Chief Inspector, on behalf of the board, must review the prepared ESCC documentation and test results of a prior produced model of the product. In short, the function of the board, at which ESCC has a chair, is to ensure that all released designs either comply with the Qualified Domain or rule the necessary actions to expand the Qualified Domain.
The authority of the board stretches over design, materials, processes and any other aspect of the component. A Company Executive, myself, heads the TRB. The appointed ESCC Chief Inspector, our Quality Manager, assisted by two Deputy Chief Inspectors appointed from Engineering and Quality, operate the TRB on component level. ESA Certified Inspectors approve each final product prior to dispatch. The TRB release an ESCC Certificate on the products based on complete review and confirmation of correct manufacturing and testing of products.
Flux resume responsibility of the delivered products potentially saving clients the burden of incoming inspection, cost test vehicles and destructive validation of product quality. Flux also perform biannual ESCC Qualification monitored by ESCC to maintain the Qualified Domain.
Based on customer needs, Flux developed various products offered as standard defined parts over the past years. The primary focus of these parts is Surface Mount Technology and encompass series of inductors, gate drivers, current sense transformers, MIL Bus transformers and more. Given the opportunity the supply Qualified Parts, Flux will increase the number of standard product series in an attempt to ease our customers design burden and cost. Meanwhile, we will maintain our strong point as specialized in Custom Designs, where we have true opportunity to add technical value to the Space business.
Lars A. Gregersen, Electro Mechanical Engineer
In my career in electronics, I have worked with products ranging from studio broadcast equipment, over hearing aids to Space components. In various positions, I have been involved in Sales, Support, Education, Quality, Business Development and Administration.
In 2007, my collective work experiences culminated when hired as Quality Manager at Flux A/S, a company supplying Custom Inductive Components for Space Applications. In this position, I spent three years achieving ISO9001 and AS9100 Certification of the company, established an Internal Training Academy for Certification of Operators by way of my own ESA Certification as ESCC Trainer and started a process to incorporate ECSS and ESCC systematically in our Space Processes originally tailored to MIL-STD-981, MIL-PRF-27 and MIL-STD-202.
After the first three years in the company, the Board of Trustees requested that I change position from Quality Manager to Sales Manager. In this position, I gained more contact with our customers and had the opportunity, not only to evolve our procedures to an up-to-date standard, but also to tailor operational routines aiming for the satisfaction of our customers.
Due to growth and organizational changes through my period as Sales Manager, I assumed the administrative role as head of both Engineering and Production alongside my responsibilities in Sales.
Today, and for the past couple of years, I carry the title of Business Director with responsibility of Flux's business branches within Space, Avionics and Defence. Of those lines of business, Space is the largest organization.
As of Flux's registration on ESA's QML, a new role as Head of the ESCC Technical Review Board was assigned.

Latest posts by doEEEt Media Group
(see all)