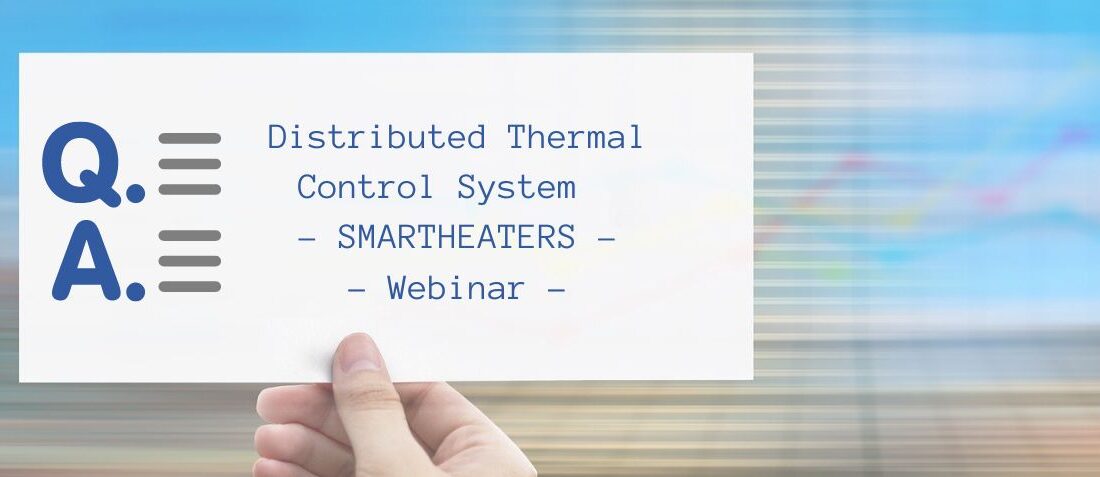 Posted by doEEEt Media Group
On November 25, 2022
0
The webinar was attended by many participants who asked our speaker a few questions. In this post, you will find all the answers.
Why do not use PT100 sensors? Thanks
We use PT1000 and digital sensors. PT1000 is very standard for space.
How was the heater glued?
We used two-sided conductive tape. We are not experts on this, and mounting is clearly a very important process to assure proper heat dissipation. We are checking how the space integrators do it.
Do you have an additional T° control aspart the PT1000 fixed on the plate of the heater?
We are testing the Smart Heaters these days. And yes, we are placing an array of temp sensors to compare with.
Is this thermal control system scalable? 100 sensors?
Each Smart Heater would control 14 heating lines (with 14 additional redundant lines). As the system works independently, it can be scaled up by adding more main boards to control other lines. So, the answer is yes; it can be scaled up to 100 or even more sensors.
How do you proceed to validate the gluing of the heaters?
It is not our goal to do this. We understand that this is important for the tests we are doing and have been told by ESA about how to do it.
Thank you for the presentation. How is reliability affected compared to a traditional design, especially considering the sensors are daisy-chained?
We are evaluating the system. The heating lines have redundancy lines. The final reliability of the system still needs to be evaluated.
Is it necessary to shield the T° sensor harness to avoid the noise, and if you need more accuracy?
We do not expect this to be necessary. Note that we do not have great accuracy as a target (±1ºC is the goal, but we expect to be around ±0.2ºC).
Is the IC/( all PCB components) rad-hard? If not, how is it latch-up protected?
We have selected the components to have a rad-hard version. The prototypes already manufactured have some rad-hard and some commercial devices, but we are now only validating the design.
GET IN TOUCH TODAY!
Do you have questions? Contact us!

Latest posts by doEEEt Media Group
(see all)