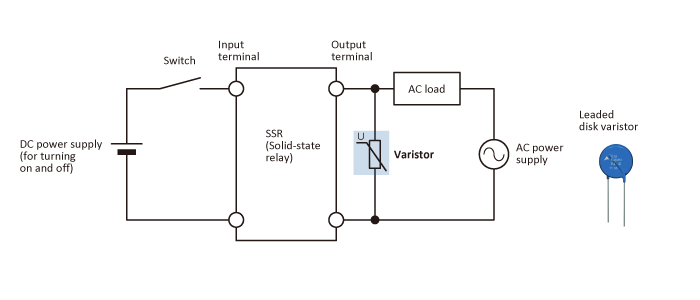 Posted by doEEEt Media Group
On July 9, 2019
0
Varistors can be used as suppressors to protect devices and circuits from transient abnormal voltages including an ESD (electrostatic discharge) and a lightning surge.
For protection from a relatively large surge current (100A to 25kA), leaded disk varistors and SMD disk varistors are suitable. For protection from a larger surge current (approximately 25kA or more), block varistors, and strap varistors are suitable.
For industrial devices and energy apparatuses, disk varistors of which maximum allowable circuit voltage (rated voltage) and maximum peak current are largely used.
Leaded disk varistors
ThermoFuse varistors
SMD disk varistors
Strap varistors
Block varistors
Sample application: Surge protection for the input part of a switching power supply
Various types of small, lightweight, and high-efficiency switching power supplies are frequently used as power supplies of electronic devices. In a switching power supply, an EMC filter is placed before the power circuit to prevent conduction noise which enters through the power line. However, as a lightning surge and a switching surge cannot be prevented only with the EMC filter, a surge protection circuit using disk varistors is placed before the EMC filter. Combinations with surge arresters and other devices and their circuit configurations vary. Similar protection circuits are embedded in AC adapters that are used for laptop computers and the likes. Varistors are also used for power strips and wall outlets with a lightning protector.
Sample application: Surge protection for a LED lighting system
An LED lighting system consists of LED arrays with multiple LEDs connected, a driver (driving circuit), a control circuit, and a LED power supply as well as subsystems including a power supply for communication. Many chip varistors are used for ESD and surge protection for the interface part and varistors are necessary for an ESD protection array. An LED is a device using a semiconductor, and without protection, it can be destroyed by ESD or surge. For the reason, a varistor is installed in parallel to an LED device.
Click over the photos to discover our database in Resistors and Relays Components ⇒
Sample application: Surge protection for inductive loads such as motors
At the moment of turning off the power of devices with inductive loads using coils such as motors, solenoids, and electromagnetic valves, the devices discharge magnetic energy that has been stored as counter electromotive force and generate a large surge voltage. To protect the devices from the surge voltage, a varistor is connected in parallel to a load.
Sample application: Surge protection for a motor with an electromagnetic brake and protection for the contact of its switch
AC motors which are used for industrial devices include a motor with a break. The electromagnetic brake using an electromagnet, an armature (movable steel plate), and spring can stop the rotation of the motor immediately after turning off the switch. However, as the electromagnet is an inductive load using a coil, at the moment of shutting off the current, the coil generates counter electromotive force and a large surge voltage occurs, which damage the contact of the switch. To absorb the surge voltage and protect the contact of the switch, a varistor is connected.
Sample application: Surge protection for an SSR (solid-state relay) and protection for its output terminal
An SSR (solid-state relay) using a semiconductor element (such as a thyristor) is used for many industrial devices with a large current. It is a relay electrically insulated by a photocoupler, and as an advantage, it can control the on and off of a device safely by the on and off signals of very small electric current of a DC power supply. However, because a large current turns on and off, the output terminal is easily damaged by switching surge. To suppress this, a varistor is connected in parallel on the output side (Some SSRs have built-in varistors).
Sample application: Surge protection against load dump and field decay
When a current flowing an inductive load using a coil, such as a motor and an alternator (electric generator), is shut off, a large surge voltage is generated due to the generation of counter electromotive force.
Load dump is a surge problem that occurs when a battery line is shut off for a reason such as disconnection of a battery terminal while power is supplied from an alternator to a battery. Field decay is a problem with a negative surge voltage, which is generated when the polarity of a battery is reversed by mistake.
As both of them may reach an ECU and cause a malfunction, ECUs must pass a load dump test and a field decay test. A disk varistor is used for surge protection.
When power is supplied from an alternator to a battery, disconnection of a battery line generates a large surge voltage. The varistor bypasses the surge voltage to protect an ECU and others.
Immunity test and emission test for ECUs (ISO10605)
EMC evaluation tests for ECUs include an immunity test for confirming that an ECU does not malfunction and an emission test for confirming that an ECU is designed not to generate a noise larger than a limit.
| wdt_ID | Immunity test | Standard | Description |
| --- | --- | --- | --- |
| wdt_ID | Emission test | Standard | Description |
| --- | --- | --- | --- |
Sample application: Surge protection for joint boxes and power conditioners of solar power generation systems
DC electricity generated by a solar panel is sent to the power conditioner via a joint box, boosted in a DC-DC converter, converted into AC electricity by an inverter, and then sent to a commercial power system. To protect its circuit from an inductive lightning surge and the likes, voltage protection circuits using varistors are inserted into the input and output parts of the joint box and the power conditioner. Combining with a surge arrester increases its reliability.
Sample application: Surge protection for important devices using a lightning transformer
A device called a lightning transformer is used to protect important devices such as servers in data centers and telephone switchboards from a lightning surge. It is a combination of an SPD (surge protection device or lightning protector) and a special transformer of which primary winding and secondary winding are electrostatic shielded, and a surge which cannot be removed by the SPD is bypassed through grounded electrostatic shield materials and discharged to the ground. It is excellently effective to a common-mode inductive lightning surge in ESD.
Sample application: Protection against a high-energy surge in industrial devices
Block varistors and strap varistors are high-energy type products used for power supplies of industrial devices and communication devices, power switchboards at power plants and power substations, railway signal systems, and others, and their advantage is an extremely high surge current capability. A block varistor is contained in a case and has screw terminals, and a strap varistor has strap (flat plate) terminals with holes that are fixed with screws (or soldered). A surge arrester for AC power line protection is also used.
Source: TDK Technical Note

Latest posts by doEEEt Media Group
(see all)