Posted by Burak Gökgöz
On December 3, 2019
0
Overview
 German Aerospace Center (DLR)

 DLR EEE-Components Division

Objectives

National annual EEE-Components Conference

New Space 
   Working Group :"Usage of Automotive Components in Space Application"
German Aerospace Center (DLR)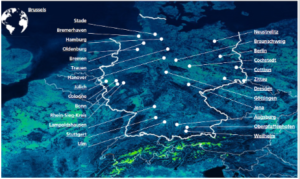 DLR has approximately 8700 employees at 27 locations in Germany
Research and Technology

Space Administration

Project Management Agencies
Research Areas:
Aeronautics, Space Research and Technology, Transport, Energy, Defence and Security, Space Administration, Project Management Agency
Research and Technology
The German Aerospace Center (DLR) provides ground-breaking services through the combination of research in aeronautics, space, energy and transport, as well as the cross-sectoral fields of security and digitalization. With its scientific and technical expertise, DLR strengthens Germany's position as a scientific and economic location.
Space Administration
DLR has been assigned the task of the German national space agency. Acting on behalf of the German Federal Government, the DLR Space Administration designs the German space programme and implements it in cooperation with national and international partners.
Project Management Agencies
The DLR portfolio is complemented by the DLR Project Management Agency and the Project Management Agency for Aeronautics Research and Technology. These agencies support their clients in planning, implementing and communicating funding programmes and other measures in research, education and innovation.
DLR EEE-Components Division
Objectives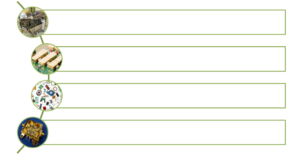 DLR EEE-Components Division
National annual EEE-Components Conference
Which serves as an exchange platform for:
 Demand and availability of EEE-components

 Information of national funding opportunities

 Status of ongoing national technology and qualification programs

 New technologies for future applications

 Information of planned activities 

 Updates on ESCC and ECSS with support of ESA
Special Editions: (each 2-3 years to invite one nation)
Extension with participation of other nations and national space agencies
DLR EEE-Components Division
National annual EEE-Components Conference
23

th

& 24

th

of May 2019 in Bonn @ DLR

Over 130 participants 

25 oral presentations

Industrial Exhibition

Panel discussion

Participants from 50 organization (few examples)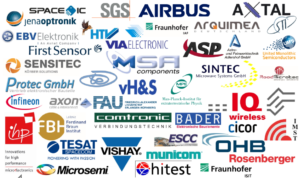 DLR EEE-Components Division
New Space, Motivation
As space industry is facing a process of renewal, the possible usage of non-space parts in space missions to reduce overall costs, improve availability, reduce lead time and increase flexibility (functionality, new technologies) is getting more and more of crucial importance.
Way forward: Usage of automotive EEE components in space applications
Why focus on Automotive parts?
 Strategy in automotive industry (e.g. Standardization, Designed for Manufacturing, Product Roadmaps, Life-Cycle Management, established processes etc. ) 

 More recent technologies and features

 Significantly lower costs, shorter lead times, better availability

 Guaranteed reliability and temperature ranges

Many German Automotive parts manufacturers have also Space Productions
DLR EEE-Components Division
Introduction, Space2Motion Working Groups 
DLR initiative: "Space sector meets automotive industry" 
Exchange platform for automotive and space sector not only for EEE-Components
Working Group : Usage of Automotive Components in Space Applications
 Kick-off Meeting in January 2019

 Finalization of Terms of Reference in July 2019
Scope (finalised)
 Phase 1 –

Identification

 Phase 2 –

Analysis

 Phase 3 –

Concept Development 

 Phase 4 –

Concept Verification 

 Phase 5 –

Development of an exchange platform/ Data Base
Participants (finalisation ongoing) for each Phase
 EEE-Components manufacturers (Automotive and Space)

 EEE-Components users

 Automotive OEMs
New Space – Working Group
"Usage of Automotive Components in Space Application" 
Phase 1 – Identification
Target: Understand the past and define the most critical parts (user needs)
Which parts are needed:

Consolidate future need of German users, focus on critical space parts

(e.g. long lead times, high costs, quality issues, new functions/technologies)
 Experiences from previous programs using non-space grade parts (e.g. TET-1)

 Studies related the usage or evaluation and qualification of non-space grade parts 
Participants:

(incomplete list)

More than 20 companies/institution/university are already part of the WG
Phase 2 – Analysis
Target: Understand the Delta and identify the challenges
Market Analysis:

Overview of automotive parts from Germany which are potential replacements for identified critical space parts
Perform a GAP-Analysis:


Differences between ESCC/MIL qualified parts and AEC-Q parts

Analyze based on documentation, specifications 

Consider 

Class 1,2,3 per ECSS-Q-ST-60

Evaluation and qualification philosophies

Mission profiles of automotive parts
Data collection

for selected automotive parts qualification
Identify the challenges

resulting from use of

automotive parts

(some examples)
Pure tin – mitigate whisker growth 

Risk assessment – Assess: reliability, failure mechanisms, drift calculations

Traceability, "lot" definition, radiation: (non-)hardness

High minimum order quantities, high non-recurring costs , smart/lean procurement process, storage and sales strategy

 

Participants

: (incomplete list)

Subgroup active parts

: Fraunhofer Institute, RoodMicrotec, BERNS Engineers, Hostmi, Infineon

Subgroup passive parts: Isabellenhütte, Vishay Beyschlag, RoodMicrotec, Hostmi, BERNS Engineers
Phase 3 – Concept Development
Target: Develop a concept and verification methods to demonstrate suitability of  AEC-Q parts in space applications
Develop a concept

per part type/ technology which considers different programe levels to reduces the necessary testing (Initial/evaluation, lot acceptance) cost to a minimum
Classification of mission profiles

(parameters, requirements, …)

Define approach

to way forward for

identified challenges
Test Concept Option 1

:

Systematic on ground testing

Develop concept – which tests have to be performed

Optimize concept – how to save resources, e.g. board level tests?

Test Concept Option 2: On-Orbit Verification

Develop concept 

 Use of small satellites & Cube-Sats, maybe Sample return mission (?)

 Data transfer during mission time, "real-time" analysis

 Extrapolation of data, assessment of perimeter and risk
      What kind of data could be gained?
      To which extent is extrapolation possible?
      Which operational conditions/missions can be covered?
 Detection early failures 

 Launch conditions provide information about resistance to shock and vibration

 Radiation related data  on DD and TID or maybe on SEE? 

 

Participants:

(incomplete list)

Subgroup active parts

: Fraunhofer Institute, RoodMicrotec, BERNS Engineers, Hostmi, DLR

Research and Technology

, German Orbital Systems

Subgroup passive parts: Isabellenhütte, Vishay Beyschlag, RoodMicrotec, Hostmi, BERNS Engineers, Fraunhofer Institute, DLR Research and Technology, German Orbital Systems
Phase 4 – Verification
 Target: Implementation of the developed concept and testing
Concept Option 1:

Perform defined tests in lab, assess results
Concept Option 2:

OOV-mission slot, manufacturing of test boards, analysis of transferred real-time data, data evaluation
Comparison of test data gained by the two options

, assess validity of Option 2 data, define and optimize concept for future investigations
 Participants

: (incomplete list)
Subgroup active parts

: Fraunhofer Institute, RoodMicrotec, Hostmi, DLR

Research and Technology

, German Orbital Systems, University Würzburg

Subgroup passive parts: RoodMicrotec, Hostmi, Fraunhofer Institute, DLR Research and Technology, German Orbital Systems
Phase 5 – Development of an exchange platform/ Data Base
Target: To support German industry and institution
 Developing concept and programming

 Test results, documentation and all other component related information

Participants: (incomplete list): Cheyenne-IT consulting, German Orbital Systems, RoodMicrotec, Hostmi, Fraunhofer Institute, Vishay Beyschlag
New Space – Working Group "Usage of Automotive Components in Space Application" Preliminary Schedule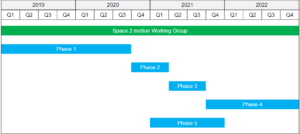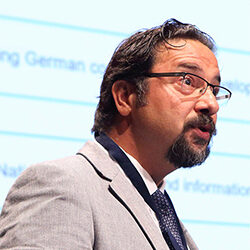 Latest posts by Burak Gökgöz
(see all)