Posted by Michael Steffens
On December 3, 2019
0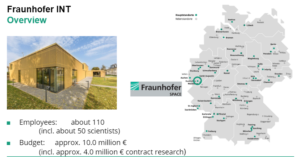 Nuclear Effects in Electronics and Optics (NEO)
Main areas of activity
Investigation and application of the effects of ionizing radiation on optical and electronic components and systems

The RACOCO project
Ra

diation characterization and functional verification of

CO

TS

co

mponents for




space applications 

ESA contract 4000127569/19/NL/FE

GSTP activity supported by Germany (DLR)

Awarded to Fraunhofer INT (represented by the Fraunhofer Gesellschaft)

Technical officer: Gianluca Furano

Budget 1.2 M€

Timeline: 2019-2022 
Aim of RACOCO
Identify available COTS components 

Functionality or properties should greatly benefit the space community

Will make use of spin-in approach (e.g. AEC-Q)
Preliminary assessment and radiation testing of a "long" list of components

In-depth radiation testing on smaller but comprehensive subset

Assess test methods and methodology for COTS components in general

Data and experience on the specific parts/lots can serve as input to guidelines for future COTS testing.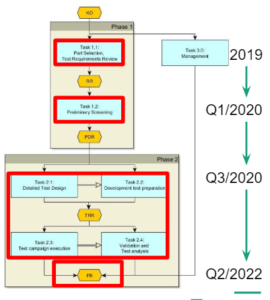 Timeline of RACOCO
The project is currently in the first phase of test candidate identification. 

The basic suitability is then checked in a preliminary screening campaign

Components that pass this will be subjected to in-depth testing. 

Suitable devices will be recommended for further qualification tests beyond radiation to enable use in space.
Candidate identification
Build a "long" list of candidate devices

Functionality or properties should greatly benefit the space community

Focus on high integration / high performance / reduced power?

Call for participation!

http://s.fhg.de/racoco-survey
Why a "long" list? Examples encountered:

Target 100 krad(Si) Failing at < 10 krad(Si)

Target no SEL for LET < 60 MeVcm2/mg

failing with low LET to SEL

Decapsulation issues etc.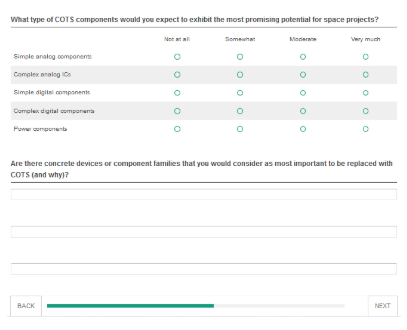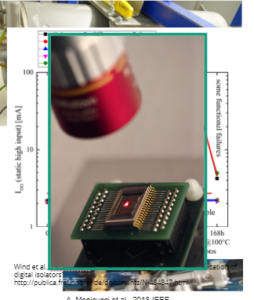 Preliminary screening
The "long" list of test candidates will be preliminary screened

focusing on SEL and TID to identify components which allow for a full characterization

If possible using evaluation boards and reference designs 
"short" list of components with proven feasibility for further testing
Radiation testing campaign
All parts passing the preliminary screening will be subjected to in-depth testing

Baseline: SEE, TID according to ECSS 25100 / 22900, DD, ….

Some components will be subjected to additional tests:

Board level or assembly tests: How do component effects scale to a board level test?

Array of SEE test campaigns: Could a proton test be enough? 

What would the reliability be? (e.g. How applicable is the figure of merit?)

TID: Statistics on large data sets

Lot to lot, part to part variations, (hopefully pre- and post- a process change)
Output of RACOCO
Data and experience on an array of COTS components for space

Eligible COTS Components that have passed all comprehensive radiation and functional tests shall be proposed for further reliability screening and possibly qualification

Radiation is the focus of this project, but not the only issue with COTS

Experiences gained during testing shall be submitted to the CTB Radiation working Group in the form of guidelines

for possible inclusion in European Radiation Hardness Assurance standards
What we also want to learn from RACOCO
How can we apply "cheap and easy" preliminary test methods to first assess radiation hardness on unknown components?

Avoid "trial and error" full-scale tests up to standards

How representative and reliable can these preliminary test methods be?

Can they replace "full scale tests" for "high-risk" missions?

How representative are radiation tests for samples from another lot/date code?

Links heavily to the use of heritage information and/or COTS databases
Summary
In RACOCO we will put both COTS components and COTS test strategies to a test (http://s.fhg.de/racoco)

The project is currently in its initial phase of device selection

Call for participation!

http://s.fhg.de/racoco-survey
Test preparations and preliminary screening in 2020

"Short" list of components assembled in Q3/2020

In-depth testing from Q4/2020 to Q1/2022

Final report and Guidelines Q2/2022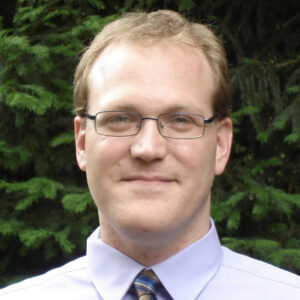 Latest posts by Michael Steffens
(see all)