Posted by Steven De Cuyper
On December 3, 2019
0
Agenda
1 Company Introduction
2 ADPMS Introduction
3 Why COTS?
4 Examples
5 Conclusion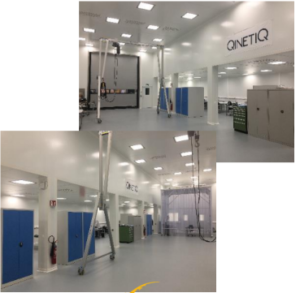 Company Introduction
Founded in 1969 as product developer
Space activities started in 1983
Delivered 100+ systems and sub-systems for manned space stations, satellites and interplanetary missions
Acquired by the QinetiQ group (UK) in 2005
170 highly educated specialists employed
2 sites in Belgium
450m2 cleanroom
QinetiQ Space Ground Station
Located in Belgium, Redu
ESA satellite ground station
Jointly operated with SES Astra
QinetiQ Space
Located in Belgium, Kruibeke
Offices: 3.742 m2, Warehouses: 1.200 m2
2 Class 100.000 cleanrooms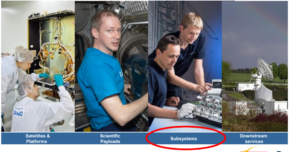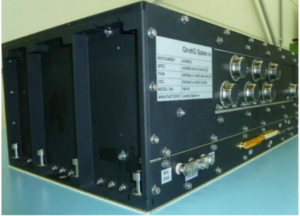 ADPMS Introduction
ADPMS : Advanced Data and Power Management System

Dual lane computer and power system
Modular digital boards
Intended for platform computer
Onboard computer for Proba satellites

Design started in 2000
Flight heritage on Proba-2 and Proba-V (16 combined years in orbit)
Flight units ready for Proba-3
Spin-off used on IXV
Parts Usage

General class 3 level parts
About 20 different types of commercial COTS parts used on a total almost 300 parts
Design predates the ECSS-Q-ST-60-13C
Why COTS?
Because of functional reasons (No suitable FM equivalent available)

However market and availability evolves

Several components could now be replaced by MIL / ECSS / Hi-rel parts

But, unless replacement is size/function compatible, risk of change is considered too high

Very dense PCBs prevent updating without complete redesign
Loss of flight heritage / qualification
excellent performance of most COTS parts in space
NOT because of cost reasons

Component parts cost is lower however

Upscreening costs
Parts approval flow (repeated for each project)
Radiation testing when applicable
Solder qualification
(relifing)
Difficult to assess total cost at start of project

Accumulated cost of PAD discussions and extra tests over consecutive projects
Obsolescence, manufacturer changes or batch variability (no long term assurance)
Design concept

cPCI compliant modular boards and backplane with rear-IO

Multiple types of cPCI connectors
PCB space constraints

Decoupling of CCGA /MCGA devices

0402 ceramic capacitors
Large value / small size ceramics

Qualified parts too large to accommodate

SOT23 plastic package dual schottky diode
Functionality and performance

Memories required for LEON processor

Commercial SRAM and FLASH

Low power analog housekeeping

ADC, OPAMP and instrumentation amplifier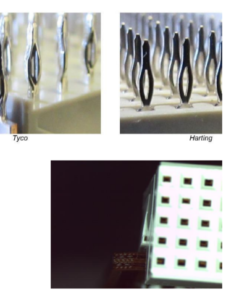 Design concept : cPCI connectors
Part selection and Qualification

Initially parts from Tyco were selected with Sn/Pb leads
For each FM lot a press-fit qualification campaign was required
Extensive Lot acceptance testing, structural analysis performed

Lessons learned

Standard PCB manufacturing with hot-oil reflow finish not ideal for press-fit mounting due to tolerance restrictions.
Due to obsolescence change required to other manufacturer (Harting)

Different tolerances and small dimension differences caused damaged connectors and pins
Same type of connector but internal construction is significantly different between manufacturers.

Current status

cPCI equivalent connectors for space are available but limited choice and no reliable intermateability with other brands can be warranted.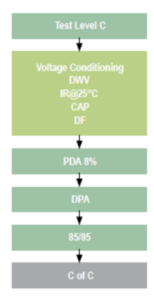 PCB space constraints : Ceramic capacitors
Part selection and upscreening

Commercial "Hi-rel" 0402, 0805 and 1206 caps from Kemet

Procured with traceability from authorized distributor
Manufacturer test level "C"
SnPb finish

Lessons learned

Solder qualification and operational performance successful
Lifetime issues, solderability decreases

Solderability failed in reusing previous flight lot, new procurement required
Sourcing new SnPb COTS parts difficult with increased lead time (non standard product)

 Current status

0402 size capacitors are now available from European space-qualified manufacturers

High lead time and considerable higher cost than MIL CDR types
Used in new designs requiring class 3 or better.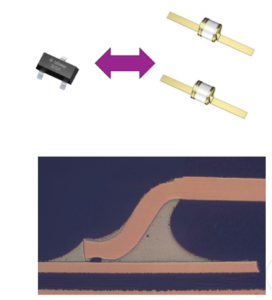 PCB space constraints : SOT23 plastic package dual schottky diode
Part selection

Multiple small signal schottky diodes required on small space
Space qualified single diodes available but FM package too large
Initial part from ON-semi selected

 Lessons learned

Obsolete ON-Semi Flight batch failed 7-year relifing

Same BAS40-04 component from Infineon selected as replacement

Solder qualification required for all new batches of plastic parts

No issues for the older On-Semi part
Initial solder qualification of Infineon part failed due to difference in lead

Obsolescence and differences between commercial parts resulted in an unexpected cost and delay.

Current status

Still a need for small diode packages
New designs with no COTS use more PCB area for same configuration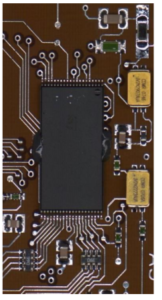 Functionality and performance : Memories
Part selection and upscreening

Components were selected because some radiation data was already available
COTS memories have a short market lifetime. Large number was purchased. FM assembly uses only a few but quantities for upscreening and testing are significant.
Solder qualification required on each lot of plastic parts
Radiation test cost is extensive

Total dose testing
Single event latchup testing
Single event effects testing (SEU, SEFI)
In some cases proton SEE testing was required (sensitive part)

Lessons learned

Combining all test costs the memories become the most expensive parts
Quick obsolescence and short lifespan of non hermetic plastic parts is a project risk and eventually limits the time a design can be reused.
Beware of variations in a "single lot" COTS parts

Current status

For new projects external qualified devices (e.g. 3D-plus) are preferred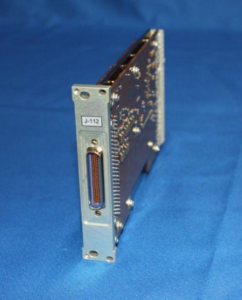 Functionality and performance : Analog Frontend
Part selection and upscreening

Core is a radhard RTAX FPGA
Power conditioning with radhard parts
Critical parts for analog acquisition however are all COTS

Low speed ADC with SPI interface
Opamp
Instrumentation amplifier
Several high precision resistor divider arrays

Lessons learned

To date no degradation is notable on the DAM housekeeping telemetry on both the Proba-2 and Proba-V satellites
No SEFI detected over the years for the ADC

Current status

Qualified devices available on the market
Conclusion
COTS can be successfully used in space
Risk of obsolescence
Significant differences between batches and manufacturers
Upscreening costs per part are very high for small series
COTS comes with a COST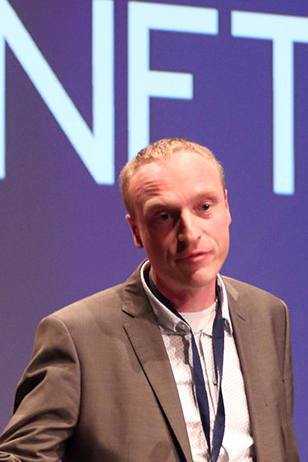 Latest posts by Steven De Cuyper
(see all)