Posted by Francisco Javier Aparicio Rebollo
On December 17, 2020
0
Main Failure Causes by SAM Inspection
Plastic encapsulated Op-amps are very popular due to the high availability and the diverse applications where they are implemented to. Nevertheless, they suffer from different risks being interfacial delamination and die attach anomalies the most critical ones. Scanning Acoustic inspection is the most suitable tool to avoid and screen out such deviations before the integration into Hi-Rel systems.
Op-amps
The high versatility of Op-amps makes them one of the essential building blocks of complex analogic electronic circuits. Inexpensive IC operational amplifiers are currently available in plastic packages being DIL-8 and the SMD counterpart SOIC-8 (also known as SO-8) the most popular packages for Op-amps. However, the long-term reliability of plastic encapsulated devices is strongly affected by inherent anomalies that compromise the integrity and functionality.
Interfacial delamination: this is the failure mechanism most frequently detected in plastic encapsulated parts and the one with a higher impact on Op-amps reliability. This anomaly refers to the lack of adhesion or decohesion at the interface between the plastic package and the inorganic internal parts (lead frame, die, die paddle, or die attach…). Package delamination is induced either during manufacturing, assembly (popcorn effect) or due to environmental conditions generating thermo-mechanical stress environmental conditions (CTE mismatch). Depending on the location interfacial delamination can critically impair the system performance.
Die surface delamination causes "first bond" lifting, wire necking, cratering, and intermetallic failures, as well as cracking of the silicon under the bond.
Lead-frame delamination is related to second bond" lifting, heel cracking and even broken wires (e.g. in the figure). This also leads to internal package cracking that can create conductive paths (current leakages). Corrosion is also possible if the delamination reaches the external package and opens a path for contaminants and moisture ingress.
Die attachment defects:
In plastic packages, the silicon die is attached to the substrate either by polyimide, epoxy, silver-filled glass or other adhesives. The attachment medium also provides thermal and/or electrical conductivity from the die. Therefore die-attach anomalies in operational amplifiers not only comprise the mechanical integrity, but also may affect the electrical performance of the thermal management depending on the design.
Scanning Acoustic Microscopy – SAM (also denominated Scanning Acoustic Tomography-SAT) inspection has proved to be the most effective technique for the detection of such anomalies in plastic encapsulated EEE parts, both before and after PCBs assembly (see more information about the fundamentals of the technique, scanning modes, and applications). Thus, confocal acoustic inspection (C-SAM) of Op-amps is a must to ensure long-term operation and for the implementation into high-reliability systems, i.a.w the test methods IPC/JEDEC J-STD-020E, ESCC25200, NASA PEM-INST-001; MIL-STD-1580; MIL-STD-883 and others. As an application example the sequence of images on the left shows the internal structure of a defect defect-free operational amplifier imaged by confocal scanning acoustic microscopy.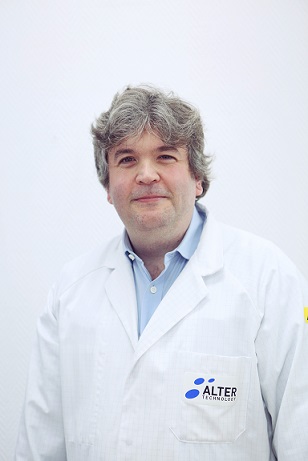 Latest posts by Francisco Javier Aparicio Rebollo
(see all)