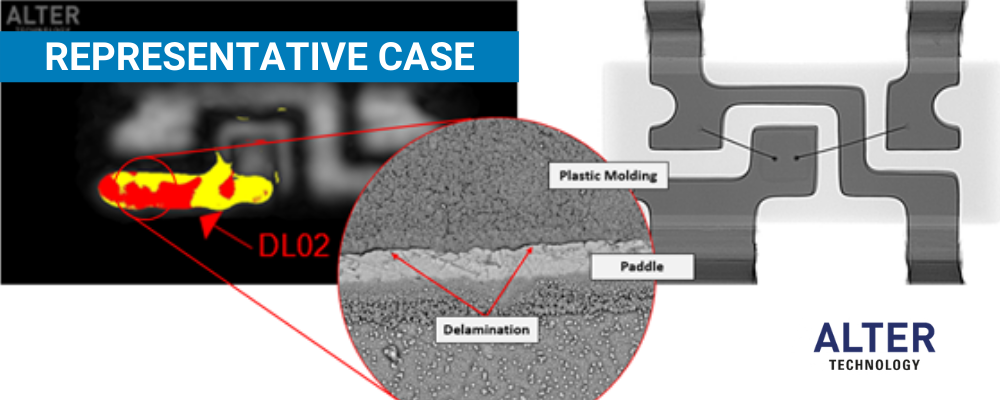 Posted by Raquel Cano Cordero
On July 13, 2021
0
In the last few years, there has been an increase in the popularity of commercial EEE components. For its implementation in high-reliability applications, it is necessary to have a technique that deeply analyses the devices' internal structure, integrity, stability, and defect identification.  
Scanning Acoustic Microscopy is a technique that has been revealed as the most effective and complete non-destructive approach for the detection of critical and latent anomalies within plastic encapsulated parts, either before soldering and on assembled systems: Therefore, it is routinely used and required to screen out potentially defective parts before the implementation into different industrial sectors such as automotive, military industry, avionics, space applications, and others. 
Such a technique has a sensitivity to density changes, making it a reliable and accurate technique to detect "air-gap anomalies" such as delaminations, voids, and cracks. 
Delamination CSAM Analysis
Delaminations, defined as a lack of adhesion between two interfaces, is the most common defect found in plastic COTS during the SAM screening, and ;different factors may originate them some of the most important ones are: 
Coefficient of thermal expansion: plastic COTS' internal structure is formed by materials of different nature (plastic, metal), and each one has a different response to temperature changes; the contract and expand differently, causing internal stress.

 

Diffusion of moisture or other corrosive agents.

 

Thermo and mechanical storage conditions.

 
These delaminations may lead to failure mechanisms, such as poor mechanical stability, wire bond damages like twisting, necking and breakage, inefficient heat dissipation, and popcorn cracking. 
In turn, these failure mechanisms lead to electrical failure modes, like short-circuit/open-circuit, parametrical failure, or impedance increase.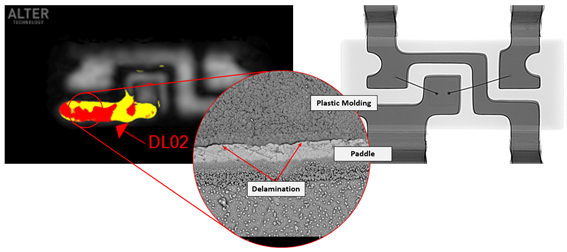 The picture shows a case where delamination was detected during SAM inspection; this anomaly extends a huge area from one edge of the paddle to the die, covering almost the entire length. As you can see in the X-Ray image, there is no evidence of delamination since this technique is not sensitive to this kind of defect. However, the presence of this air-gap anomaly was confirmed after performing a cross-section. 
This kind of delamination may not be rejectable now. Still, it clearly menaces the structural stability of the device, and this defect is very likely to expand due to factors such as the ones described above, causing the final failure of the part. 
Contract our CSAM services
One of our experts will be helping you in any process of the project you need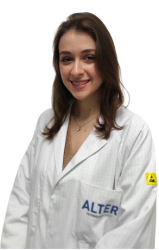 Latest posts by Raquel Cano Cordero
(see all)