Posted by Elena Vallejo
On April 23, 2019
0
A new DCL/BOM header can be created clicking on the button "CREATE A NEW DCL/BOM HEADER" showed at the top right corner of the My DCLs/BOMs user panel.
EXPRESS DCL/BOM HEADER CREATION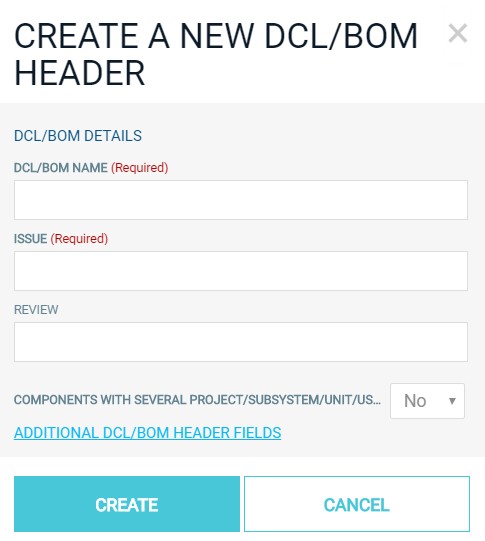 Only the name and issue of the DCL/BOM are mandatory. If the user wants to add more information related to the DCL/BOM to create, it is necessary to click at the button "ADDITIONAL DCL/BOM HEADER FIELDS".
When the field COMPONENTS WITH SEVERAL PROJECT/SUBSYSTEM/UNIT/USER VALUES (by default "N") is set to the value "Y" it means that the components to be included (by adding or importing) can belong to different project, subsystem, unit or user, those values will be shown in the DCL/BOM details (paragraph 3) and will be disabled at header level. For later on references, these DCLs/BOMS are called "multivalue".
DCL/BOM HEADER COMPLEMENTARY FIELDS
The following self-explanatory fields can be filled in to complete the header information related to the DCL/BOM to be created.
| wdt_ID | DCL/BOM DETAILS | PROJECT DETAILS | CUSTOMER DETAILS |
| --- | --- | --- | --- |
| 1 | DCL/BOM NAME/ISSUE/REVISION | PROJECT CODE | FINAL CUSTOMER |
| 4 | CREATION DATE | PROJECT DESCRIPTION | PRIME CONTRACTOR |
| 7 | COMPONENTS WITH SEVERAL | SUBSYSTEM CODE | UNIT MANUFACTURER (USER) CODE |
| 10 | PROJECT/SUBSYSTEM/UNIT/USER VALUES: (N/Y) | SUBSYSTEM DESCRIPTION | UNIT MANUFACTURER (USER) COUNTRY |
| 13 | STATUS: (In progress/Approved) | UNIT CODE | UNIT MANUFACTURER (USER) DESCRIPTION |
| 16 | PREPARED BY | UNIT DESCRIPTION | -- |
| 19 | REVISED BY | MODEL | -- |
| 22 | COMMENTS | BOARD | -- |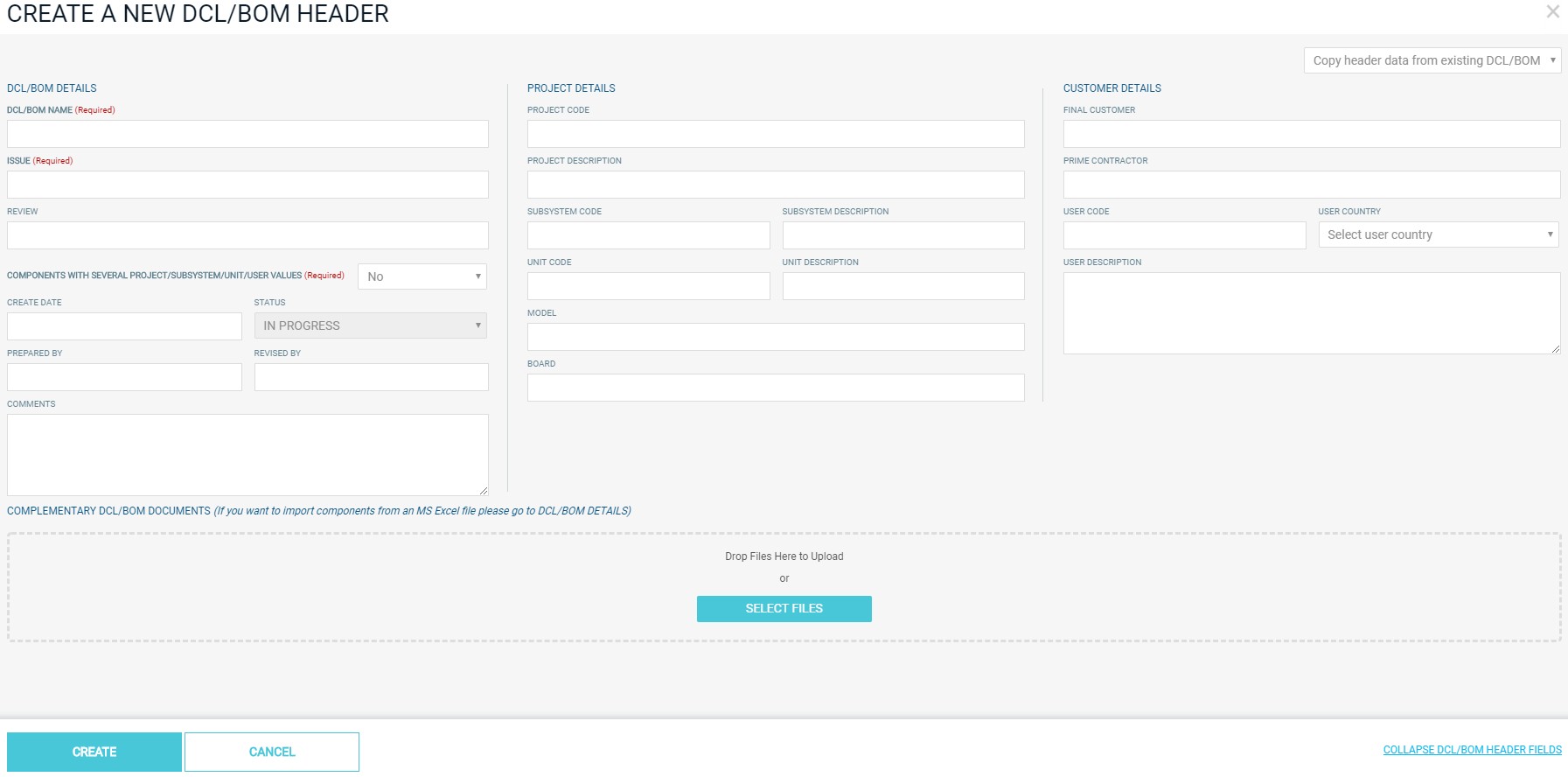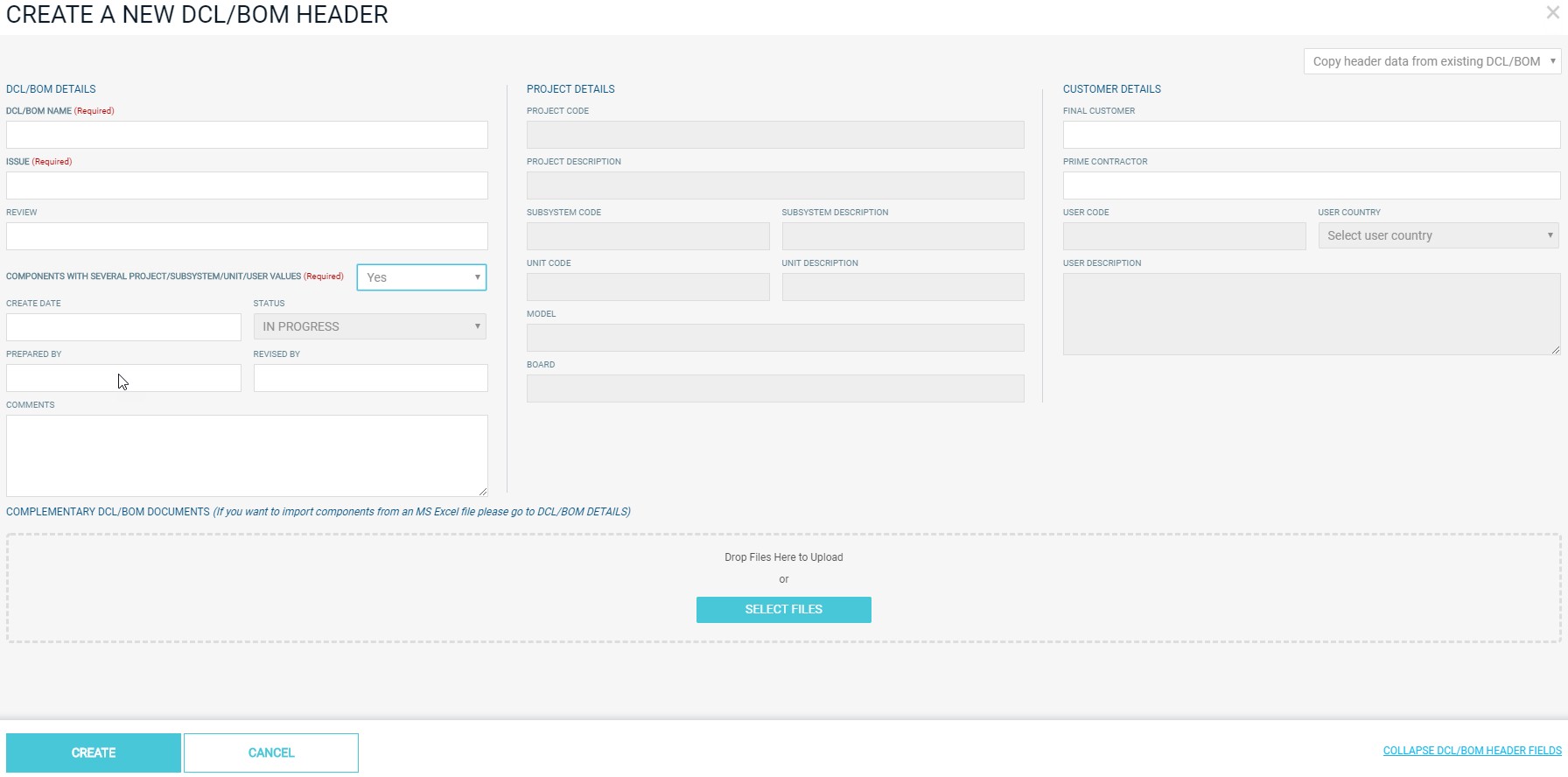 The default value of the field STATUS is "IN PROGRESS" and any document can be linked to the DCL/BOM just by dropping the file into the box or choosing it when the "SELECT FILES" is clicked.
By clicking on the top right side and choosing an existing DCL/BOM of the user panel, the fields of the DCL/BOM header to be created can automatically be copied from those already filled in the DCL/BOM.

Once the DCL/BOM header has been created, it is added to the user panel, and then, the user can select and go into the details of the DCL/BOM by clicking on the name or selecting the box and pushing the "DCL/BOM DETAILS" button. This option allows the user to select several DCLs/BOMs from the user panel to be shown their content at the same time (paragraph 3) in the DCL/BOM components area.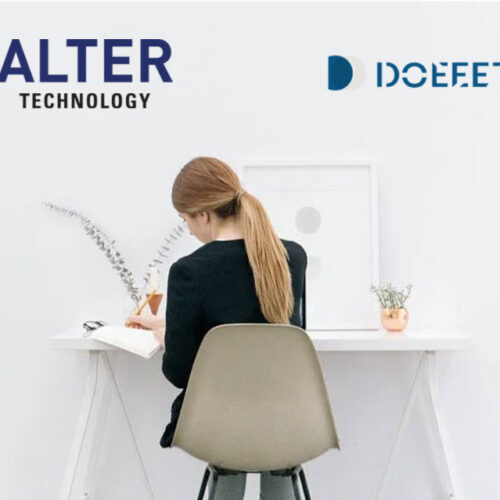 Latest posts by Elena Vallejo
(see all)