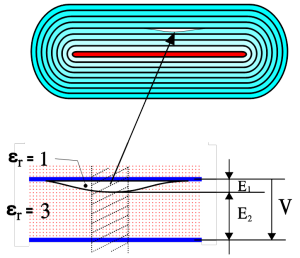 Posted by Tomáš Zedníček
On February 27, 2019
0
Insulation Resistance, IR The dielectric of a capacitor has a large area and a short length. Even if the material is a good isolator there always flows a certain current between the charged electrodes (the current increases exponentially with the temperature). This leakage can be described as a parallel resistance with a high value, an Insulation Resistance (Figure: Schematic of the Insulation Resistance IR in a capacitor.). We use the abbreviation IR in the following.